Conference report by contributing editor Gary Moskoff…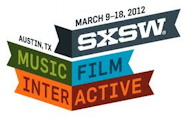 South by Southwest, SXSW, the original un-conference, is like nothing I have experienced before.
This was my first year attending and I was warned that it was going to be something different. To truly experience the conference, many said to follow the @SXSWparty feed on twitter and that I'd find all the parties, but that was not the case. One had to really think outside the box and do a lot of research to find the right parties to attend.
For instance, one of my favorites included the Skype party, a mix of bands and DJ's performed, the party itself was a lot of fun, but I was most impressed by the way they included the audience in the show by live streaming individuals dancing around the perimeters of the show and then using the imagery in real time on the big screen as visuals to enhance the overall experience for all to enjoy. I also enjoyed the Warner Brothers show where LP and the Punch Brothers stole the show for me!
Locals claimed that there was a drought for years until SXSW 2012 started and it rained for what seemed like eternity, until one day the clouds parted, the sun shined down and it was hot.
SXSW is comprised of three tracks and over 5,000 events the technology and music conference split the week, while the film conference runs throughout the entire show. The Tech show started Friday and over the weekend there were many speeches, panels, and parties. The tech exhibit hall opened on Monday, which seemed a little weird to me, but who am I to judge.
My first day I happened upon the end of a flash mob, a CRAZY introduction to what would be a crazier week… Because there is so much going on within the conference, it was difficult to assess the most important events to attend, in fact, if I had one complaint, it would be how hard it was to figure out where I should be and when.
Eventually I found the Samsung Blogger lounge, they knew how to take care of their attendees, hosting happy hour every day and bringing in relevant hosts to share their experiences. Samsung was also showing their latest and greatest, the most interesting display was of the US Olympic Genome Project, which connects people across America with Team USA athletes in amazing, unpredictable ways, be sure to check it out as it launches in the coming months, http://awe.sm/5iJXh.
One afternoon, I hung out at the lounge for too long and bumped into a friend, it was his fifth year at SXSW and he gave me a big speech about how if I were at SXSW feeling comfortable, it is time for a change, "this conference is all about feeling uncomfortable," but in a positive way. If you want to attend a conference that is comfortable, that is easy to get around and see everything that is going on, go to Vegas, SXSW is not the event for you!
As I was out from dawn to dusk, the most important piece of equipment to bring for me was a phone charger, without my iPhone I would have been lost, so luckily I was equipped with an iMobifone charger, the solar power actually worked which was surprising. Due to the length of time I was out and about, I had to be equipped with two chargers to make it through the day and night, but I could have used the solar charging capability if I were in one place long enough. You can pick one up for only $49.95 on their website: http://awe.sm/5iJdb, be sure to buy one and don't leave home without it!
My favorite speeches were the keynotes by Bruce Springsteen and Anthony Bourdain and his crew behind the award-winning series Anthony Bourdain: No Reservations TV show. The No Reservation crew spoke about how they started the show in social media and how they've integrated TV and the social media show overtime, highlighting the effects social media has had on the show, even mentioning how local foodies can get on the show by participating in the social media bonanza.
When asked why they took over the twitter feed, the answer was as simple as any of Anthony's answers, they "took over the Twitter handle so it wouldn't suck!" Surprisingly the network has been very supportive, giving them free reign to be who they really are and when asked what people liked, they were quick to answer that pain, drinking, and food porn were guaranteed to be retweeted the most.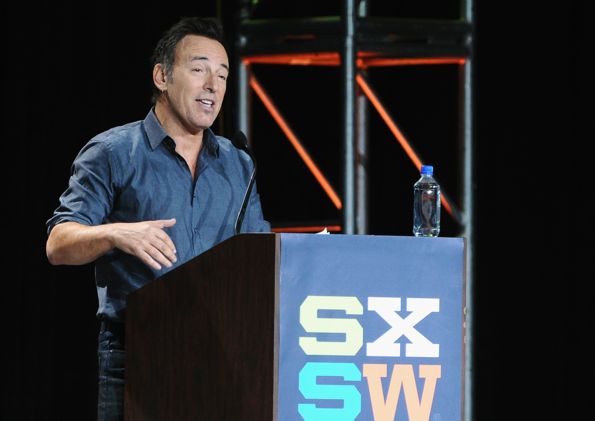 Bruce Springsteen Keynote at SXSW
In contrast was Bruce Springsteen's keynote. The boss took a few moments to kick in, but as soon as a guitar was bought up on stage, everything changed. He was as smooth as silk, telling his life story as he often does by comparing moments in time to the musicians who have moved him, from Elvis, Woody Guthrie, to the band which inspired him the most, English rhythm and blues rockers the Animals.
Bruce spent a lot of time talking about the many different kinds of music that was playing in and around Austin during SXSW, stating that "we will never agree on anything as we agreed on Elvis." Not to say that Elvis was the best, although he said that as well, Bruce shared how the music industry had changed and how it shaped his life as he often does, with little ego, as if these other great musicians shaped the culture of rock n roll, but we all know that Bruce was in the middle of it all, shaping Rock 'n' Roll as he traveled from coast to coast.
He ended his speech stating to the audience, that tonight the musicians in the audience should rumble, that they should open their ears and their hearts. Not to take themselves too seriously, and to take themselves as seriously as death itself. Don't worry, but worry your ass off. He went on to say that the audience should have ironclad confidence, but remember, it's only rock 'n' roll!
Throughout his speech, Bruce performed a bit, but it was his words that moved me. No photographs or recordings were allowed during this one, but I will never forget the words Bruce spoke. Much like I will never forget the experience of SXSW.
I won't lie, it was a CRAZY week, it did not go smoothly for me, but it was the conference to end all conferences, one that I will be comparing every event I attend for the rest of my life. So much happened, I saw so many bands, attended so many events, meet so many interesting people that it would be impossible to recap all of those experiences here, so all I can do is suggest that you go for yourself and experience the most un-conference I have ever seen. But if you go, be sure to plan, RSVP to as many parties as possible, but do not set your heart on attending anything, unless Bruce Springsteen is in town, because that would be worth it!
Thanks to Gary Moskoff of
Guess Your Songs
for enduring his first trip to SXSW. It's quite a show…