For my job I need to generate QR codes for some of our marketing materials that points to various pages on our Website. How can I do that? I'm a bit lost…
Quick Response or QR codes were becoming an also-ran tech solution until the pandemic hit and suddenly touchless was all the rage. Their most common application? Menus at restaurants to minimize everyone having to touch the same item. Turns out that QR codes are general purpose, however, and there are a lot of smart places to place them. Not only that, but all the major smartphone operating systems now include QR code scanners built into the camera apps, so as soon as someone goes to take a photo of a QR code, they can just as easily tap on the displayed shortcut and go to the page, launch the app, watch the video, or whatever else the QR code specifies.
The question is, how the heck did everyone generate all those QR codes?
Well, it turns out that the feature's built in to some Web browsers, and that there are third-party QR code generator sites that you can use for free if you prefer. The QR code, by the way, is an evolutionary step from a bar code, developed because the older bar codes – like UPC codes – required it to be aligned with the scanner (think of the bar code on a package from the supermarket). By using concentric squares on three corners of the code, QR Codes allow orientation-free scanning because the app can correct and orient based on where those squares appear. You'll see what I mean when we see the first QR code, just below.
GENERATE A QR CODE IN GOOGLE CHROME
Imagine you're using Google Chrome to read up on Doctor Who and bump into a page you want to share with your community. Not via Snapchat or TikTok, but by adding it to a flier you're making for your fan club meeting. Turns out all you have to do is right-click (or Control-click if you're on a Mac) anywhere that's blank on the page and the context menu that appears includes just what you seek:
Couldn't really be much easier, could it? Choose "Create QR Code for this Page" and it'll pop up in a tiny window:
Point your smartphone at that image, you'll see that it really does work! Perhaps more importantly, notice you can click "Download" to download the QR code and use it in documents, social media posts, even the afterword to the great novel you've just finished writing. Also notice the three concentric squares that orient the code when being scanned and the tell-tale dinosaur in the middle from Chrome.
What's the deal with that dinosaur anyway? Turns out that Google Chrome was built atop an earlier open source Web browser called Mozilla, which used a Godzilla-like dinosaur as its icon and mascot. As a sort of Easter Egg, Chrome retains Mozilla's dinosaur in its generated QR codes, along with a few other spots. Ironically, Mozilla the open software organization bailed on the dinosaur in 2017, replacing it with a typographic "MOZ://A" logo instead. Gotta say, I'n not a fan.
Chrome is easy, and this works on Chrome for Mac or Windows, if you're curious. What about Microsoft Edge?
GENERATE A QR CODE IN MICROSOFT EDGE
Turns out that the Web browser that replaced Microsoft Internet Explorer on the PC and is available across operating system platforms is built atop Chromium, which is the open source version of Chrome (more or less. It's kinda complicated). It should be no surprise, then, that the new default Web browser for every Windows PC, Microsoft Edge, includes the very same QR code generation feature:
It's even the same menu choice – "Create QR Code for this Page" – and the output? Well, it's pretty similar too: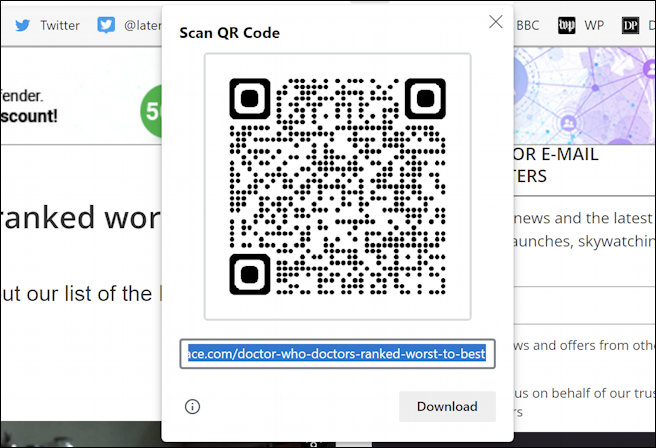 No dinosaur, though, which is a bit sad. Somewhere in Microsoft an engineer looked at the Mozilla dinosaur, tested it out, and decided to remove it from the Microsoft Edge QR codes. I say bring it back or add Clippy instead! 🙂
GENERATE QR CODES FOR WEB PAGES FROM ANY BROWSER
But what if you're a fan of Apple's Safari browser, or prefer Firefox or another Web browser that doesn't include QR code generation capabilities? One simple solution would be to temporarily utilize Chrome – or Edge – to generate your codes, but it turns out that there are some terrific third-party sites that can do it for you.
Warning: There are some browser plug-ins too, but doing research suggests that at least one of them is actually malware, so be careful. Unless you really, really need it as a plug-in or extension, use a third-party Web site instead, since there's no code to install on your own computer.
A favorite QR code generation site that I've been utilizing for many years is QR Stuff.com. The free version lets you generate codes, as we'll see, but if you pay for site membership, it offers a lot of additional features that might be terrific for a larger commercial project like what you're describing.
The main page shows you just how versatile a QR code can be, allowing you to specify a phone number, wifi login, PDF file, or, what we seek, Website URL. It's confusing, but the QR code on the right side is not what you want to save. Scan it and you'll see why.
Since we haven't specified the destination URL, it's not hugely surprising that the default code actually points to their site, but still, I wonder how many people get confused by it already showing a code!
Click on "Website URL", then find the "Next step" button at the bottom of all the many different choices. The second screen is where you will paste the URL of the Web page you want to have linked:
In this case, I'm linking to an Encyclopedia Britannica entry on, you guessed it, Doctor Who. This is best copied and pasted directly from the address bar in your Web browser to ensure it's accurate…
Click or tap on "Next step" and it will show you the resultant QR code for the page in question:
It also lets you tweak the shape and color, as shown with my blue QR code. Join up as a paid subscriber and you can add your company logo to the QR code (similar to how the dinosaur showed up earlier) along with a lot of other cool features.
And that's it. Whether you have the convenience of the built-in QR code creator in Chrome or Edge or need to use a third-party program, now you know exactly how to generate a QR code for one or more Web pages. Have fun!
Pro Tip: I've been writing about how to watch streaming media on your devices for many years. Please check out my computing and device help library for lots of additional tutorials. Thanks!