A friend sent me an invite and I'm on an iPhone, so I'm in! A full fledged member of Clubhouse. But when other friends send me their cellphone numbers, it doesn't seem like I can invite them, even though I have a spare invitation. How do I invite people to join Clubhouse?
Every so often a new social network shows up and becomes the rage. Much of that is due to savvy marketing and scarcity, and that's exactly what Clubhouse, a live audio chat app, is doing: You can't just sign up and join, you need an existing member to invite you. But you also need to be on an iPhone because the app doesn't have a desktop or web-based interface and it's not yet available on the Android platform. If it's hard to join, it's special to be a member, right?
Having said that, the Clubhouse app also has a somewhat sloppy user experience with its current interface, so it's no wonder you're a bit confused about how to invite your friends from within the app. It reminds me a bit of Snap (formerly Snapchat) where you're just supposed to know all the different swipes and icons to use the app efficiently. Me? I'm old school, give me icons and text labels, please. Using an app shouldn't be a hidden treasure adventure!
Anyway, there's a trick to inviting someone to join you on Clubhouse if you have their name and phone number, but can't seem to find them when you look up people you can invite. Let's have a closer look…
HOW TO INVITE SOMEONE TO JOIN CLUBHOUSE
The irony is that if the Clubhouse developers just had a simple error message when your search produced no results, you'd be able to figure it out. But I'm going to draw this out just a little bit before I tell you the trick. Ok? 🙂
First off, a good place to start is the home screen. Here's what it looks like for me this morning: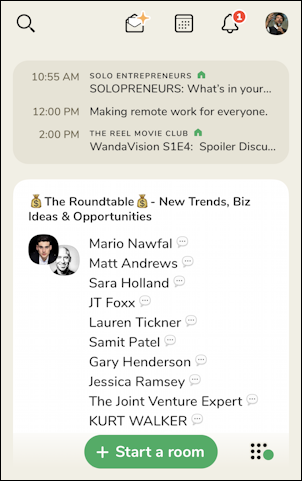 While the upcoming scheduled events and the current live events undoubtedly catch your attention, pull your attention back to the toolbar along the top with its five icons. They are, left to right, search (you can search for people, clubs or conversations, and you can also browse by category from this point), invites, your upcoming scheduled conversation calendar, notifications (I have 1 new notification) and a tiny picture of you that offers access to your profile.
No huge surprise, for this task, tap on the envelope icon (Note: I believe it only has the orange "+" if you have invitations available, but am not 100% sure that's the case) to get to the spot where you can invite people to join you on Clubhouse…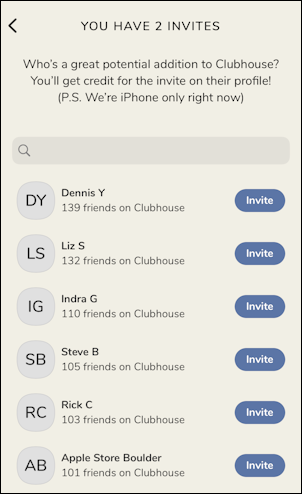 At this point I have two invitations to share, hurray! You can see that it lists my friends along with how many friends they have that are already on Clubhouse. Oh, and the Apple Store Boulder, which I find quite hilarious. But then again, the Apple Store Boulder has 101 friends on Clubhouse, which is pretty impressive! 🙂
The question is, where does this list come from? When you first started up Clubhouse you allowed it permission to access your contacts and that's where all this data is from, cross-checked against other people's contact lists (that's where the count comes from). So here's the secret to understanding Clubhouse invites: You can only invite someone who is already in your Contacts.
Check it out. If I search for someone who isn't yet a contact, even by phone number, it'll never match, so I'll never see the blue "Invite" button: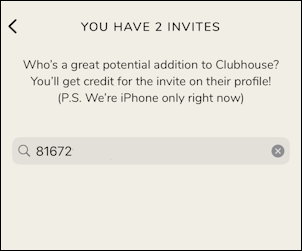 In fact, you can't search by number, only by name, and that's only across your list of contacts.
As a result, the trick to inviting people you don't know very well to Clubhouse is to add them to your Contacts on your iPhone, then search for them in the Clubhouse app itself…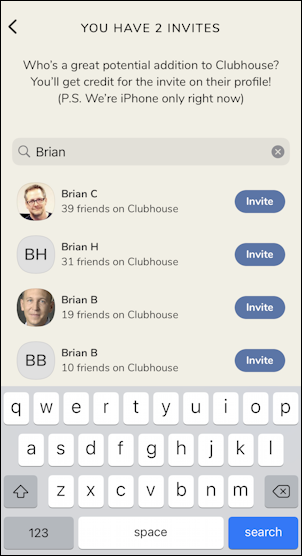 I have four Brians in my Contacts list, including my buddy Brian H, who has asked me for an invite. Since he's in my Contacts list he shows up on the search results list, and since I have at least one invite, I can tap on the "Invite" button. When I do, it sends their information to Clubhouse itself and simultaneously switches me to Messages where I have a pre-loaded invitation text message: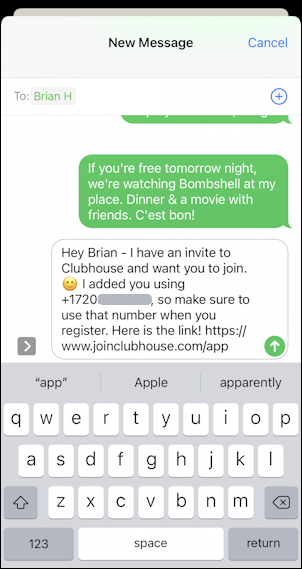 One warning is that you want to ensure that anyone you're going to invite sends you their iPhone phone number. Any other number and they won't be able to successfully sign up and you'll both be disappointed. You can also edit this text message if you want to rephrase it slightly, but I'd recommend keeping their phone number as a confirmation and, of course, the getclubhouse.com link too.
That's it. Send that text message and now you're done. At some point you'll also get a notification when any of your invited guests actually sign in and get Clubhouse up and running on their phones:

Welcome aboard, Burton!
If you end up seeing this when you go to the invite area, by the way, don't panic: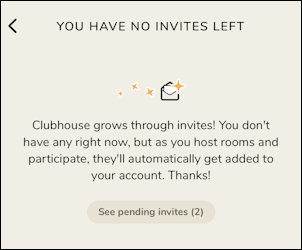 It seems like Clubhouse renews your invitations at a trickle, but a day or three later you will have at least a couple of new invitations to share. Scarcity, it's all about scarcity, as I said earlier.
Anyway, that's the process of inviting someone else to join you on Clubhouse whether you already have them in your Contacts list or not. Hope that helps you out and I'll be chatting with you on the service soon. I'm @askdavetaylor if you want to find me.
Pro Tip: I've only recently joined Clubhouse but I've been writing computer and app help articles for quite a while. Please check out both my computer basics help and iPhone help areas while you're visiting! Thanks.