Just bought the new Harry Potter book [Harry Potter and the Cursed Child]) as a Kindle edition and am completely overwhelmed and confused by the number of Kindle devices Amazon says I have! How can I clean things up?
First off, I hope you enjoy the new Harry Potter book, um, play. It's next up on my reading list too, so we can race to the finish with young Mr. Potter and his new retinue!
In terms of the Kindle interface on Amazon.com, you're right, there's something about how they manage Kindle devices that often seems to translate into lots of extra devices popping up and it then being quite confusing to know where to send a new Kindle purchase, particularly if, like me, you have the Kindle app on a lot of stuff anyway.
Of course, I also receive review devices so they show up, then vanish. But Amazon.com doesn't know that, so they stay around forever on my device list. Fortunately, you can fix it. Let's have a look…
When you purchase a Kindle edition, here's what you see in your Web browser:

Problem is that the default device is simply chosen alphabetically rather than being the most recently used Kindle app or device. And so you click on the menu to choose another one, just to be overwhelmed: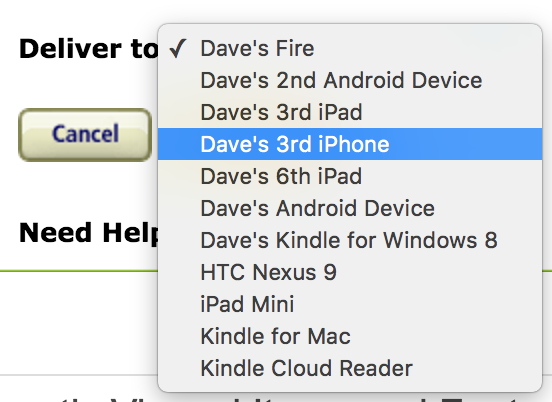 That's a lot of choices and why I have a 3rd iPad and 6th iPad is quite confusing!
On the same screen, look on the top for all the navigational options. You seek "Manage Your Content and Devices":

Click on "Manage Your Content and Devices" and you'll see, well, your content:

No surprise here, click on "Your Devices" instead. And be prepared to be impressed by how many entries Amazon has associated with your account!
This is just a subset of what's listed on my own Kindle account:

Obviously I don't need "Dave's 3rd iPad" and "Dave's 6th iPad" and (not included in the above) "iPad Mini". If you see numbered devices like this, the highest number is the most recently assigned, so it's most likely the correct one. Click on the lower numbered one (e.g., I'll click on "Dave's 3rd iPad") to remove it.
You can see underneath there are now two links: Deregister and Set as default device. There are also Edit links by the device name (which we'll use in a second) and by the email address: didja know you could email PDF and MOBI files directly to your Kindle?).
Deregistering is the process of removing a device from your Kindle device list. Don't be freaked out by the word, though, and even if you completely mess up and deregister an active device, all that means is you'll need to log in again and download your most recent purchase. Not a big deal. 🙂
To get rid of "Dave's 3rd iPad", I'm going to go ahead and click on Deregister, producing a warning message:
An actual Kindle is a bit different from an iPad, iPhone, Android tablet or other device running the Kindle app, of course, but in any case, even a standard Kindle Paperwhite or similar can always be logged back in. So click on "Deregister" to proceed and after a moment or two, you'll see:

That's it. Do this for each of the stray and errant Kindle devices on your account and you'll have everything cleaned up in no time. Then go back to the devices that are active and current and click on the "Edit" link next to the device name and you can rename it in some logical fashion: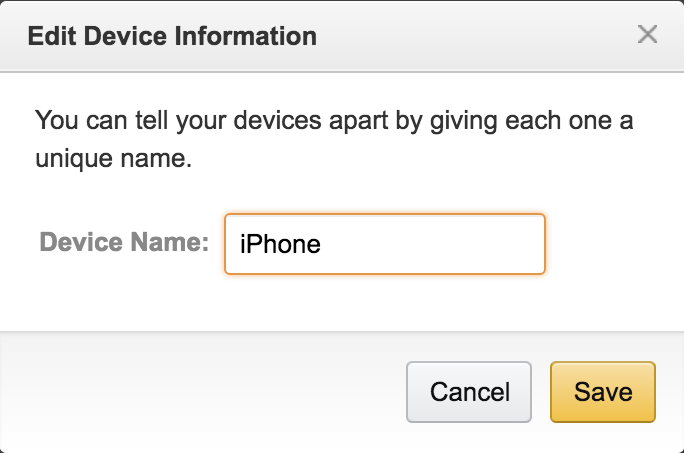 That's it. Hope that helps you tame your Kindle device list, and enjoy The Cursed Child!