I've been trying to help clean up my Mom's iMac and her desktop drives me bananas! It's littered in icons and they're all on top of each other. Is there some quick and easy way to clean things up?
As an operating system that's had desktop icons forever, MacOS X has a number of different tools for organizing and cleaning up your desktop icons. And thank goodness: I too hate when I work on someone's computer and their app and file icons are all over the place. I mean, it's like a real desk – spending the extra time to keep it clean and neat is so beneficial for your mental health and calm! 🙂
I know, there are some research studies that ostensibly prove a messy desk is an indication of a brilliant mind, but I'm skeptical. You can be smart and productive and neat. #JustSaying
Anyway, back to your Mom's iMac! What I'd recommend is actually asking her if she understands how to create and use folders. Often when I see someone with a zillion desktop icons on a Mac or Windows system it's because they don't use folders and are afraid that they'll "lose" things if they aren't on the desktop. Subfolders for organization make things so much easier to manage, backup, copy and delete when you're done with them. As a bonus, if she has a lot of files and folders on the desktop, her system will actually run faster once you clean things up!
Once you've pruned it down to just those apps, shortcuts, files and folders that should be on the desktop, it can still be a pretty big mess. Like this: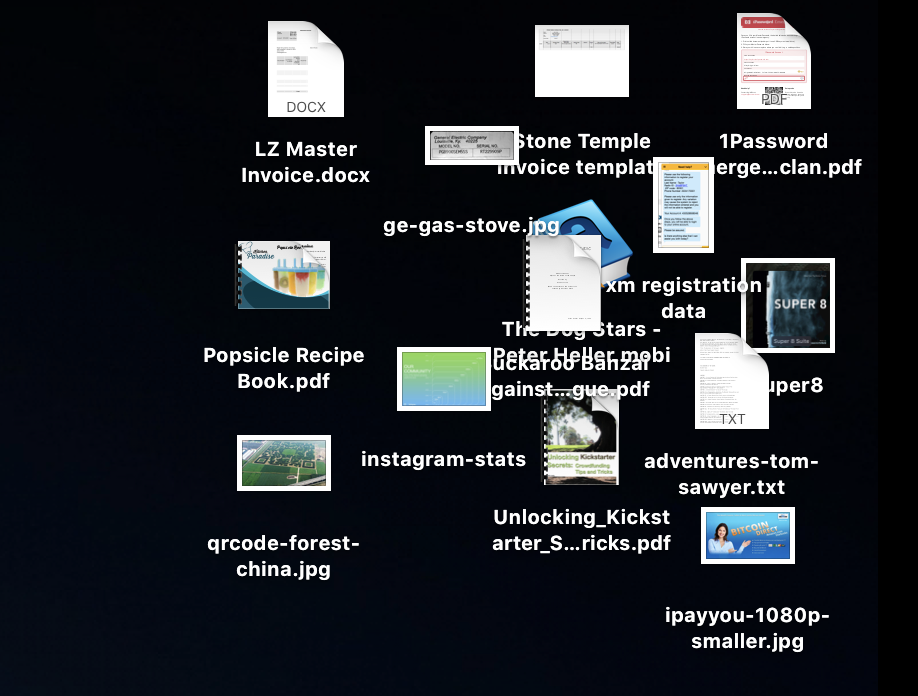 That makes my fingers twitch just seeing a mess like this! There are a lot of ways to clean things up, but let's just Control-Click on the desktop itself (click on a blank spot, not where there's an icon or picture). You'll pop up a menu with a number of interesting choices:
You can see here that I've chosen "Sort By". The specific value that's useful to help your Mom avoid having icons atop other icons in the future is "Snap to Grid", which I recommend as a choice. Sort by can be annoying, though, as she might have an organizational strategy already, with letters on the top right and photos on the top left. Sort by name or type and that goes out the window. Not so helpful.
Instead, move up to "Clean Up By" and you can choose one of the options shown:
Or you can do what I usually opt for: "Clean Up". The difference is that Clean Up cleans things up based on how they're already on the desktop, Clean Up By reorganizes just this once and Sort By continually reorganizes which can be annoying if you move a file or photo to the desktop and it suddenly zips to a different spot. Once I've opted for Clean Up, however, that jumble is instantly improved:
Ahhhhh so much better. That's how ya do it, easy enough. Hope that helps you clean up Mom's iMac!
Pro Tip: While you're here, please check out our quite extensive Mac help library. It's a book's worth of Q&A, all ready to read!