My browser of choice is Google Chrome on my PC, but my little brother has changed my theme so new tabs appear with a pinup model photo. Not my preference! How can I fix it or replace the image with something more appropriate or more to my own tastes? I'm running Windows 11 if that matters.
While there's a lot to be said about Microsoft Edge, a Web browser built atop Chrome technologies, you aren't alone in just preferring Chrome as your default Web browser regardless. In fact, one stats site reports that 67% of Internet users have Chrome as their preferred browser! I switch around but my default nowadays is actually weird: Microsoft Edge on Mac. I know, a statistical anomaly.
Now, let's get back to your situation because I have to give your little brother props for doing something subtle but annoying to your computer, even as I frown on his not fixing it afterward to make your life easier. While I haven't duplicated your exact scenario, I did apply a pretty cool sportscar theme in my own copy of Chrome on Windows 11. Chrome themes tend to be pretty modest because almost all of your browser is taken up by the actual content of the page you're viewing.
What you see is a change in the tabs and top portion of the browser, then, as you have learned to your surprise, in blank tabs or windows you open.
BLANK TAB IN CHROME? IT'S YOUR "THEME"
In my instance, here's what a blank tab looks like when first opened:
The weird graphic in the center is today's Google logo, but the background? Tell me that's not a gorgeous vehicle! 🙂
But… let's say you don't like it and want to change it. There are two options…
HOW TO REMOVE A GOOGLE CHROME THEME
To remove the theme entirely, click on the three "•••" icon on the top right to bring up the menu, then choose "Settings":
If you've never explored this menu, there are a lot of cool features and options accessible from this point. One example: Try clicking in the tiny four-cornered square and you'll find you can full screen your browser page!
Staying on focus, however, click on "Settings", then click on "Appearance" on the left side. You'll get here:
Here's where you can see the name of the current theme – mine is "Aston Martin DBC Concept – Full HD – Axlg". To remove the theme and go back to your default Chrome settings without any theme at all, click on "Reset to default".
It can be a bit boring, however, as you can see in the new tab view with that chosen: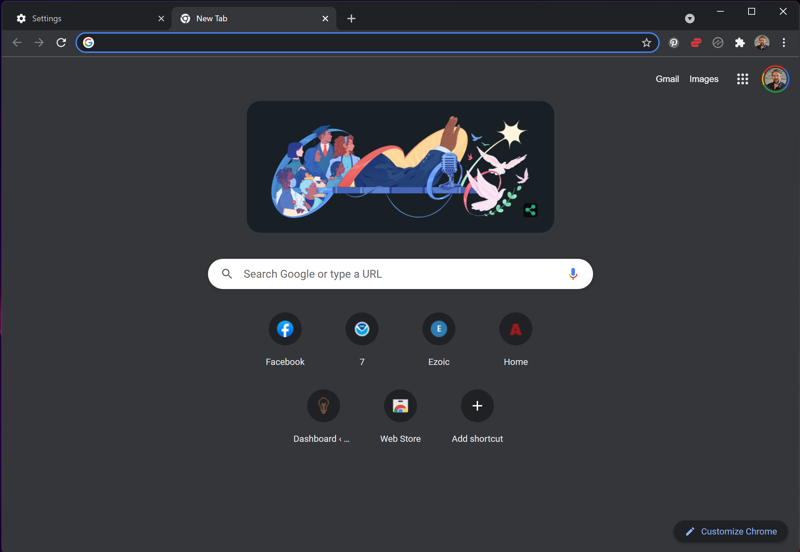 Notice the uninspired grey color scheme along the top with the tabs and search box. That's what will change as part of a new theme. In fact, let's pick a new theme instead of leaving it as default.
To do that, click on the tiny, unlabelled box with the arrow icon adjacent to that "Reset to default" button.
PICKING A NEW THEME FOR GOOGLE CHROME
Clicking on that button gets you to the Chrome Web Store in the "Themes" area:
There are a lot of themes from which to choose, which is great, because we all have different tastes and preferences, right? The order of things changes all the time so that new themes gain visibility too. I love these Latino Artist themes, but scrolling down reveals an amazing photo of the iconic Eiffel Tower:
You can see it's highly rated, downloaded over 200,000 times, and is rated four stars out of five. Let's do it!
To install a theme, simply click on "Add to Chrome". It downloads and after a moment or two installs the theme so you can see what it looks like live. Open a new, blank tab to see the full theme…
Beautiful! And notice the colors of the tabs and search box along the top have changed to a lighter color too. Better? Go back to the original tab where you applied the theme and you'll notice that there's another toolbar along the top:
Like it? Click on "X". Don't like it? Click on "Undo" and you'll go back to the no-theme default, ready to choose another option. Mission accomplished!
Pro Tip: I've been writing about Windows for many years and now have an extensive Windows 10 & Windows 11 help area. Please check it out to find lots of additional tutorials and guides while you're here. Thanks!