I heard from a neighbor that the local public library now lets you check out books on a Kindle or iPad. Terrific: my dad's not in very good health and would greatly appreciate being able to browse and download books, and since he reads really fast, even if it's just a seven-day loan, that'd work fine. How do I check out Kindle ebooks from my local public library?
It's not clear to me whether your Dad has a Kindle reader or an iPad, but either way, you're in luck because the most popular ebook reader is clearly the Kindle and their iPad app is terrific and offers 99% of the functionality of a Kindle. I'm a big fan and my iPad has supplanted my Kindle Fire as my reading device of choice. Just don't tell Amazon. 🙂
The local Boulder Public Library uses a system called OverDrive for its digital lending library, and though the selection is relatively small, it includes audiobooks and movies, as well as a lot of ebooks. The ebooks themselves are in one of two formats: Kindle or Adobe epub format. I'll show you how to work with Kindle — because I already have the app on my iPad — but there's also an OverDrive app for iOS that lets you enjoy movies and other non-ebook content on your tablet.
Either way, I applaud the public library for keeping up with the times and recognizing that while there's an aesthetic pleasure to holding and reading a printed book, there are many of us who also appreciate the portability of digital books.
Here in Boulder, the library's home page offers up a big, easily found link to the digital library: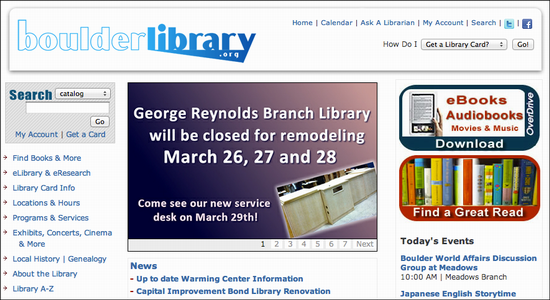 See it on the top right? Of course you do! When I click on it, I'm taken to the
Front Range Downloadable Library
, a shared venture by a variety of regional libraries here in Colorado: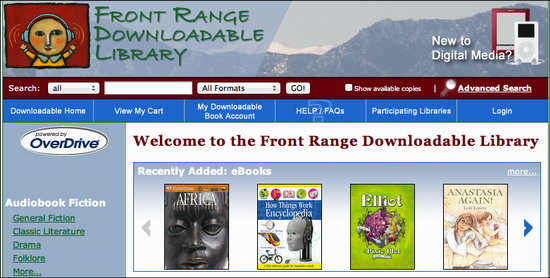 This is where I found it a bit frustrating to poke around because digital library books have a "token" and when one person has the ebook on their device, no-one else can check it out and download it. The result was that because of the limited selection, many of the books advertised on the site were available to request a hold, not to actually download.
To avoid this frustration, note on the top of the page the "Show available copies" checkbox. That's the secret. Click on it then click on "GO!" and it'll only show you ebooks that are actually available for download.
When you find a book that has its "token" available for download, the system shows "add to cart". If it's not available, you'll instead see "request hold", which you can opt to do instead: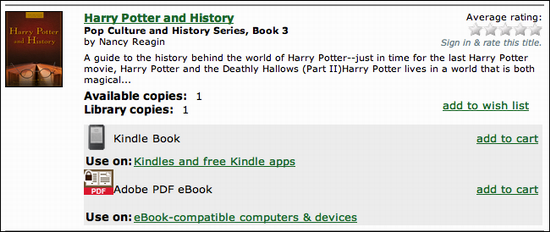 Again, notice that there are two versions of this ebook,
Harry Potter and History
, a Kindle Book format and an Adobe PDF Book format. The latter format works with the OverDrive app mentioned earlier, but since I really like the Kindle app, that's what I'll use.
I should also mention that there are two Kindle formats in OverDrive: one that says "Kindle via USB only" and another that just says "Kindles and free Kindle apps". Not sure what's what, but if you aren't using an actual Kindle, you might need to pay close attention to the difference.
I'm interested in this book about the world of Harry Potter in Kindle format, so I click on "add to cart" adjacent to the Kindle icon. The result:
Yes, I've already queued up another ebook for download too,
Morningstar
. I figure that like any other library book, if it's not good, it's easy enough to return it, so I'm much more likely to try unknown authors and series than if I were buying the book.
To continue, I click on "Proceed to Checkout" and have to log in with my local library account:
You'll forgive me if I don't share my library account information with you, won't you? 🙂
Once I've logged in, I'll again see the Check Out screen, but this time I also see some stats about my library account, including that I have zero downloadable books checked out and can only check out a maximum of four at a time. Pay close attention to the lending period too: Boulder lets us check out ebooks for 7 or 14 days, after which time it vanishes from the device and the "token" is available for someone else to check out.
I'll click on "Confirm Check Out" and it's a bit confusing because it pushes me to Amazon.com, where I see the books displayed as if I'm ready to purchase them: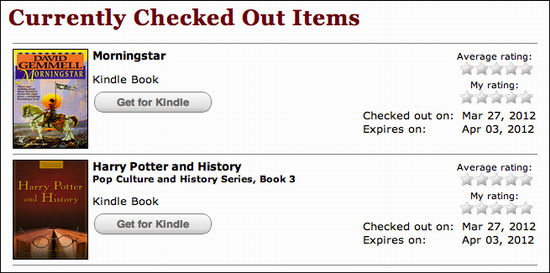 Obviously, I need to click on "Get for Kindle" and go back and forth until all the books have been checked out (or wait to download the second until I'm done with the first). I'll get
Morningstar
by clicking on the "Get for Kindle" button adjacent…
Hey, this book has tons of good reviews. That's reassuring!
To download it to my iPad, I simply select the proper device from the "Deliver to:" menu, then click on 'Get library book'.
That's all there is to it. Moments later I see this on the computer screen:
And on the Kindle app on my iPad? Poof! A new book to read:
So that's how it's done. Not too hard after all, and I'm sure the second or third time it'll be a breeze, and being able to get books from the library for my Kindle? Terrific!