Somehow I don't ever seem to get software updates for my Zoom client on my PC. Every so often there's an email from IT at work saying it's time to update. How can I get ahead of things and check for updates myself?
Like many complex software programs, Zoom has two types of updates. There are "do it now" updates that are forced whether you're ready to update or not, and there are "incremental" updates that typically offer tiny bug fixes or new features, but aren't going to adversely impact your Zoom experience. In the Microsoft world there are three, I should note; critical apply now updates (dangerous malware patches are commonly this type of update), regular system patches, and "optional" updates for subsystems in Windows that you might not use anyway. I install everything, personally, but your approach might be different.
Getting back to Zoom, if there's a critical update, then the program will actually force you to update before you can even log in for your next Zoom meeting, class or lecture. Those don't typically come along too often so much more common is an incremental update that's quick and easy to apply – if you know how to look for it.
Let's start with the critical update.  bumped into one of those on one of my PCs when I launched Zoom:
Fortunately the update button is right there on the app window, so it's a matter of a click and logging in to your account again. Easy enough.
But once you're running Zoom, you can check for updates almost as easily. The key is in the settings menu that you can access by clicking on your tiny profile pic icon: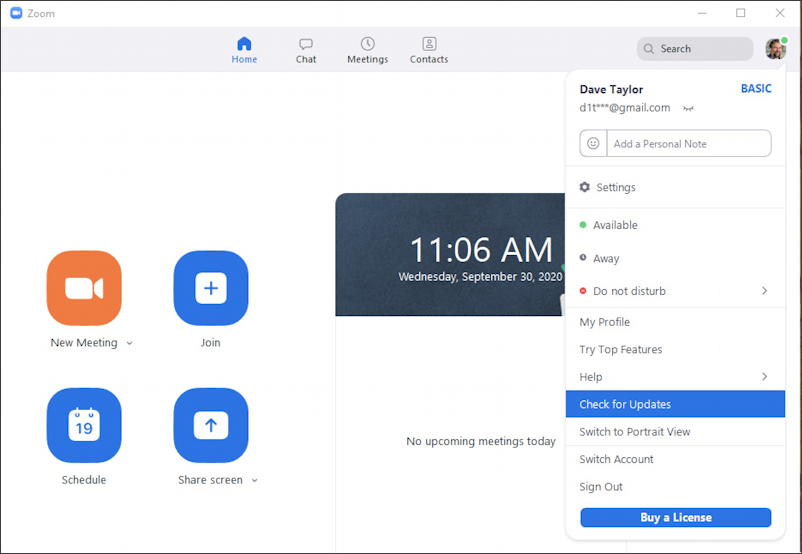 You can see that "Check for Updates" is the choice you want. Choose that and either you'll encounter an available update: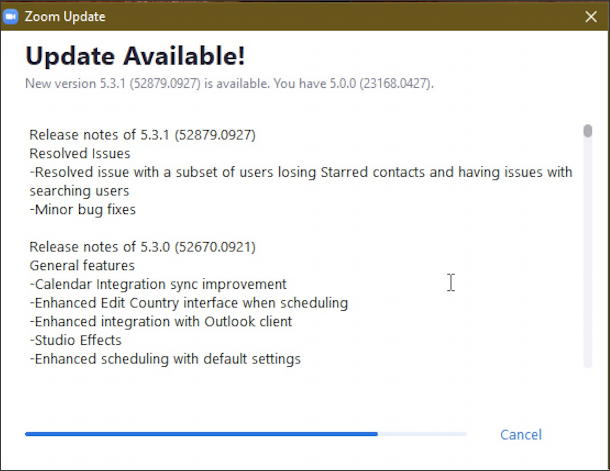 In the above instance, it's already started to download but you can see that for the most part "minor bug fixes" is accurate. Just some little tweaks to make the program work just a bit better.
Then again, more often you'll "Check for Updates" and get this message instead:
And that's it. That's how you keep your Zoom app up to date without a hassle. And if you're using a Mac, the "Check for Updates" option is on the Zoom menu, accessible by clicking on the word "Zoom" on your top menu bar. Easy!
Pro Tip: I've been writing about Zoom since before we were stuck at home. Please check out my Zoom help library for more useful tutorials while you're visiting! Thanks.