I'm not a Mac user, yech, but I have an iPhone, so I use iTunes. All good. But how do I check for recent purchases so I can keep an eye on my account?
I've never had bogus transactions show up in my iTunes account but I have heard of people having their accounts hacked, but even if not, it's always a good idea to keep an eye on transactions and online purchases anyway. Heck, in the last 12 months I've had to have two different credit cards frozen and reissued due to fraudulent transactions that I caught because I stay on top of my finances!
Apple doesn't make iTunes super easy to work with because you have to step down through a bunch of menus to get to your individual transactions, but I can show you the journey so it's not too bad. You will need to have your password handy, so this is not a way you can pop into someone else's iTunes account — even if you're sitting at their computer, logged in — and see what they've been buying recently. Just saying. 🙂
Now, launch iTunes on your Windows system:
Don't get sidetracked by the new movies and albums!
Click on "Account" along the top menu bar, just under the volume slider.
As you can see highlighted, choose "View My Account…" and you'll then need to log in again:
Hopefully you don't have my password and are't logging in to my account but are instead logging into your own! 🙂
What I really hope is that you have 2-step verification enabled for your iTunes account, actually. With that turned on, even if someone had your password, they wouldn't be able to actually log in because the second part of the login prompt becomes a request for a secret four-digit code that Apple sends to your cellphone via text message.
Here's how it goes: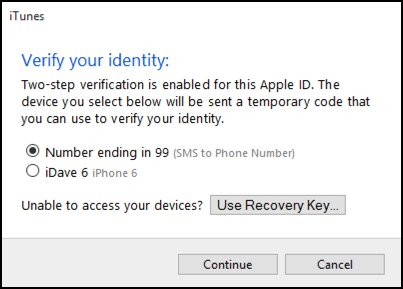 I choose my phone number and click "Continue", then it sends the code and prompts me to enter it:
Don't have that set up? Here's a handy tutorial I wrote: How to enable 2-step authentication / verification in Apple iTunes.
Back with me? Good. Once you've logged in you'll see lots of information about your account. Scroll down to find this:
Now it's pretty easy. Click on "See All" and prepare to be a bit overwhelmed: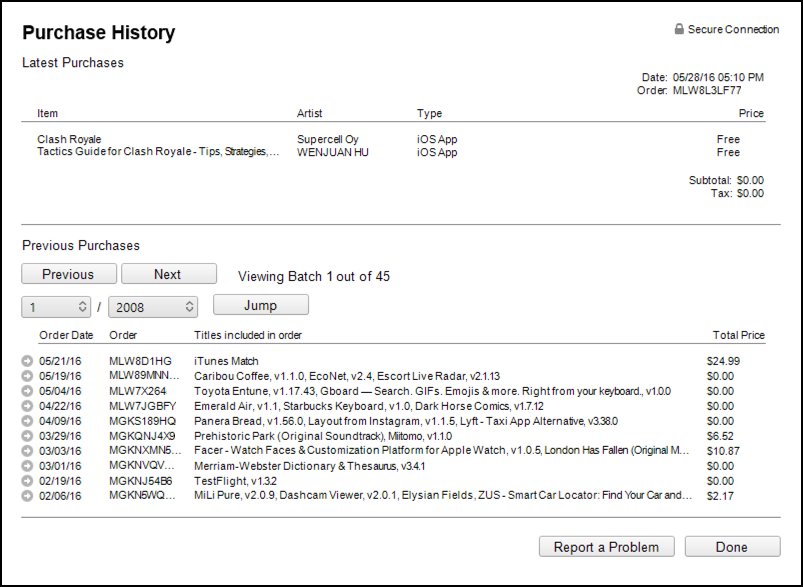 Every time I go to this screen I realize that I'm a fairly busy iTunes user, with about $50 in purchases just in the last few months. Notice that it logs every download too, even if the app's free. That's kinda handy particularly if you have a shared family account and want to keep an eye on what the kids are downloading!
Important to know is that if you see a transaction that represents multiple items, like the very last item on my list from 02/06/16, you can click on the arrow and get a detailed view:
So that's how you get to your transactions in iTunes on your Windows system. Not onerous, just knowing how to click thru the path…