Now that I have an Apple Watch I find that I rarely need to pull my iPhone out of my pocket. Except to check in on Foursquare (oops, "Swarm"). Can I do that on the Apple Watch too?
Why the Foursquare team decided to create a completely new brand for the shared check-in program formerly known as Foursquare is something I still can't understand. Just seems like the worst strategic decision ever, calling it Swarm instead, but I'm not on their Board of Directors, so I'll probably never get the full inside story on the rename. Instead, like you, I just shake my head and try to remember that it's got a new name, new logo and new UI.
What they have done right is have Apple Watch compatibility in the Swarm app from the first day that the Apple Watch was introduced. It's just another tiny orange circle on the apps screen of your watch!
Let's have a look! First off, push the Crown to get to the apps screen, then swipe around to find the Swarm app icon:
There it is. The bee.
Tap on it to launch the app and it'll immediately figure out where you are and pull up the closest check-in venue:
Hey! That's where I am right now.
To check in, just tap on the big orange icon in the middle of the screen. Not the right venue? Ah, well, then as far as I can tell you just have to pull out your phone and check in through the bigger app instead. Oh well.
But if it is correct, tapping on the orange icon checks you in.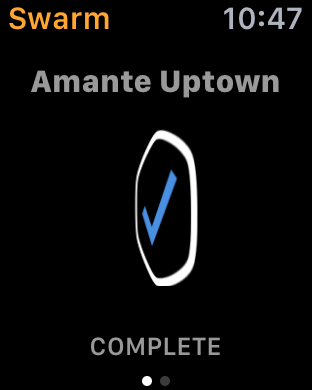 Now, look closely and you'll see the two dots on the very bottom. That means that we're on view #1 of the two views in the app, so swipe from right to left to move to the second information display in Swarm.
What this will eventually show you is a list of friends near you, but for reasons I don't understand, it can take a really long time to get to that point, 20+ seconds sometimes.
Eventually, though, it shows up: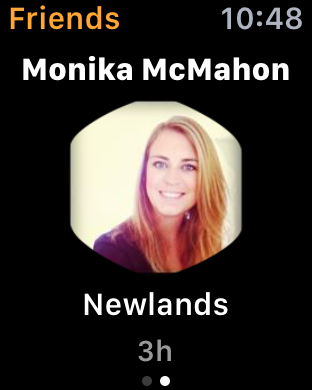 Now you can swipe upwards to reveal more friends that are checked in near you, if available.
That's how ya work with Swarm on your Apple Watch. I think it could do with a little bit of refinement, but it's a very good interface considering it was developed before the device actually shipped.