Sometimes my iPhone X picks the correct wifi network, but other times it's on the wrong one and I don't notice until I realize it's running really slowly. How can I check which one I'm connected to on the iPhone (running iOS 12)?
While your iPhone is really smart about a lot of things – as are all modern devices – there are some features that are surprisingly lacking. For example, it would be logical and hugely beneficial to be able to mark our home network so any time that's seen the device immediately switches to that network even if it's already connected to another wifi network. There's no "preferred" or "master" network, however, so it tries to just look for networks you've already used at least once and if it's one you've recently used, that's going to be its preference the next time, even if you're home or at work.
Where this gets really frustrating is if you end up using a highly pervasive network like xfinitywifi: Once you hook up to that network anywhere, it's how you'll be online just about every subsequent time if it's one of the many available networks. Even if you don't want to connect to the Xfinity wireless network (or similar).
Worse, there's no simple shortcut to finding out what actual network you're on without going into Settings and having a peek. In other words, yes, you can go to the shortcut screen to see that you are online…
Both the icon on the very top and the big blue wifi button show I'm online and have a strong connection. But to which network?
The only way to find out is to go to Settings. That, at least, you can see without going any further than the home view:
As you can see, I'm connected to xfinitywifi. Which is not, actually, the wifi network I want!
To remedy that is pretty easy, at least. Tap on the Wi-Fi line and you'll see all the available networks:
I actually would like to be connected to Amanteuptown – the wireless network for the coffee shop I'm currently visiting – so that's done by tapping on the desired connection. Since there's a tiny padlock, I know it's going to ask for a password if I haven't previously connected:
Easily done, their password is a variation on the word "cappuccino" so it's quick to type in, particularly for those of us who spend a lot of time in cafés consuming coffee beverages with Italian names.
Now I'm connected to the correct network you can see that Settings shows the name I desire: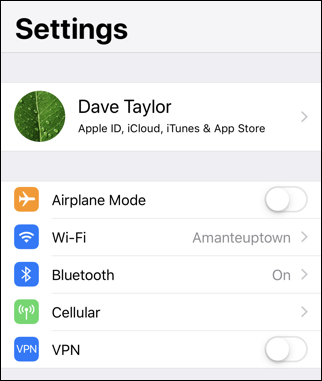 And that's it. Not hugely easy, but now you know the few taps required to ensure you're on the correct Wi-Fi network at any point. Oh, and don't forget a good VPN when you're on a public, open wifi network!
Pro Tip: I've been writing about the iPhone since before the first unit hit the market. Please check out my extensive iPhone help area for lots more tutorials and help info.