I don't want to change my theme, I like my background picture, and I don't want weird buttons or widgets all over my desktop. I just want to change my window frames from boring grey to pink or orange or some other cheery color. Can I do that in Windows 7 or am I stuck applying themes from Microsoft until I find one I like?
Microsoft has not left you high and dry, you'll be glad to know. In fact, it's pretty easy to monkey around with many of the individual elements of a theme so if you've got it just about the way you want, it shouldn't be too hard to tweak those last few elements without downloading some third party app that just happens to also be malware. In particular, please, never download custom or fun cursor utilities as they're just a disaster waiting to happen to your PC. Trust me on this one.
To tweak your window frame color you need to start out by going into the Window appearance settings, but you might be surprised at the quick and easy way you can get there from the standard Windows 7 desktop.
Launch your file browser by basically clicking on any folder or choosing it from the GO menu. It looks like this: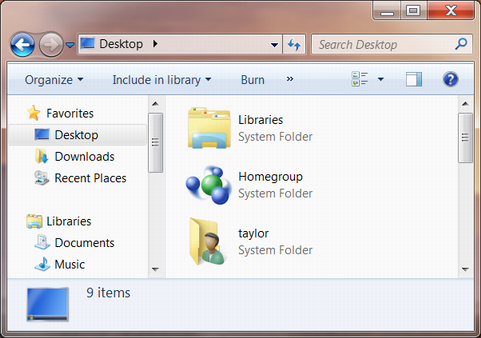 Click on the "Organize" menu and look for "Properties"…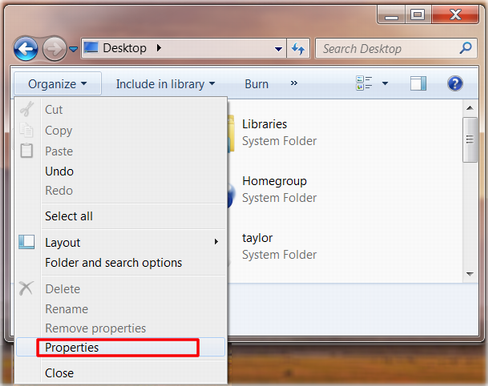 Choose "Properties" and you find that it's a shortcut to the Personalization settings in Appearance and Personalization. See? Much easier than navigating through the Control Panels, isn't it?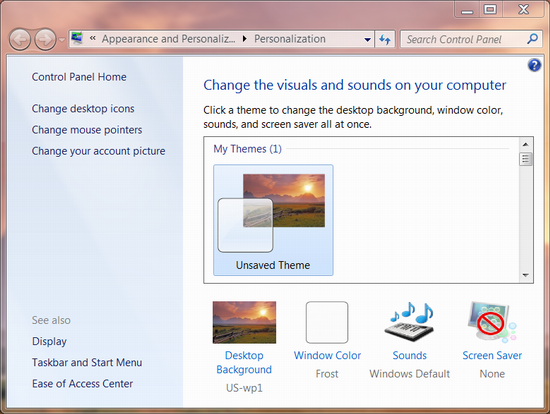 There's a bunch of things you can change, but you want to change your window color, so click on "Window Color". You'll notice mine, by default, is "Frost". Boring, yeah…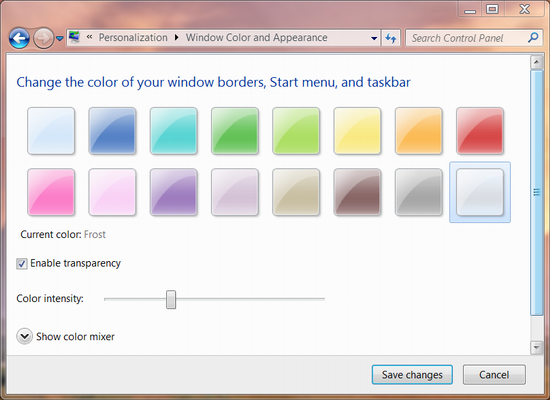 Again, as you can see, this window lets you easily pick from 16 basic colors, but it also lets you enable or disable transparency (I have it on, which is why the window frame in these images looks like a watercolor painting, due to the image behind the window) and even adjust the color intensity!
I'll click on brown (um, "Chocolate") and slide the intensity-o-meter to the right and you can see that the window frame changes and becomes quite a few shades darker: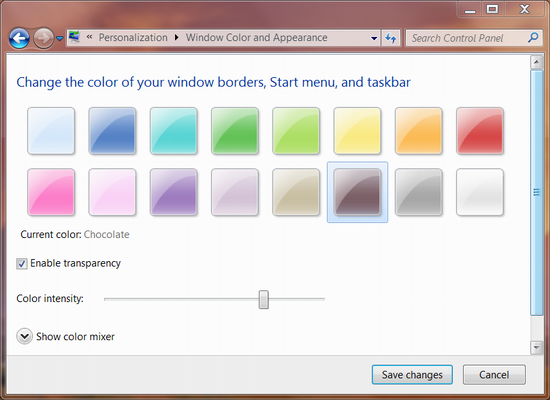 Cool and easy enough to do. Turning off transparency can have a dramatic effect too, so make sure you try changing that too so you can see what happens.
Want to use the traditional, ugly, confusing Windows appearance settings instead? Amazingly, they're still available too. Just scroll down on this window a bit and click on "Advanced settings". Here's what you'll see: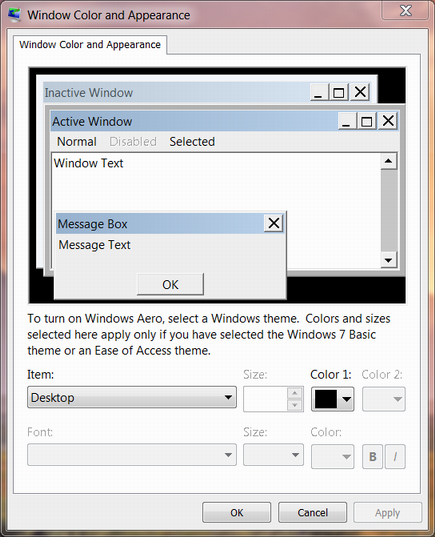 Yeah, the new Windows 7 approach is definitely easier. Have fun tweaking things!