I sometimes post status updates on Facebook that are constrained to a small circle of friends, then forget and the next few posts I make are also just for them, even though I want it to default to "Public". My standard approach is to delete and repost the Facebook updates, but if there are any comments or likes, it's awkward. Is there any way to change the visibility of something on my Wall after it's been posted?
You express a common problem that I see people have with Facebook, actually, that the list of who you're sharing it with is so subtle that they don't realize that a post meant for a small circle is visible by everyone, even people who aren't their friends, or vice-versa, they're trying to post something to the public at large and only a half-dozen people will ever see it.
In fact, most people don't know that there are different gray icons that represent different levels of visibility for Facebook posts, but if you pay really close attention to the screen shots in this article, you'll see that really, really attentive Facebook users can get a quick hit on who is going to be able to see a specific post.
Let's have a look, shall we?
First off, here's a post I just made on Facebook: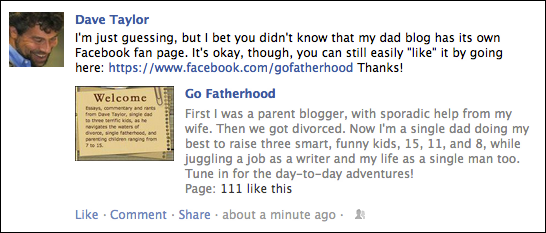 Look very, very closely and you'll see that the tiny icon to the right of "about a minute ago" is a person's profile with another in shade behind them. That means it's
not
a publicly visible posting. Oops.
To change it, I simply hover the cursor over the visibility icon and it shows me what's going on:

That's not what I want. Friends except acquaintances? I want "Public".
To change the visibility on this Facebook status update, I instead click on that same icon and a menu appears:
I want this one to be "Public", but you can see that you can set it to be just about anything you want, including the rather puzzling "Only Me" which, I suppose, is good for taking notes or reminding your alternative personalities what's going on.
Notice also on the above menu pic the different icons that denote different levels of visibility. The easiest is to just remember that the globe = public, the gear = custom and the people icon means it's a specific set or subset of your friends.
Now with the status update changed to Public, note how the corresponding icon on the FB post has changed too:
That's all there is to it. Now if you change the status of a post from hours or days ago, realize that it won't magically move to the top of your friends streams. That you can't change. But you can now see that changing the visibility is no big deal once you know where to look.