I've been running Microsoft's new Internet Explorer 7.0 web browser and really like it overall, except for one problem: by default searches in the search box go to MSN Search, and I want to use Google. How do I change it?
If you're lucky, you simply got the following prompt the very first time you ran IE7 on your computer: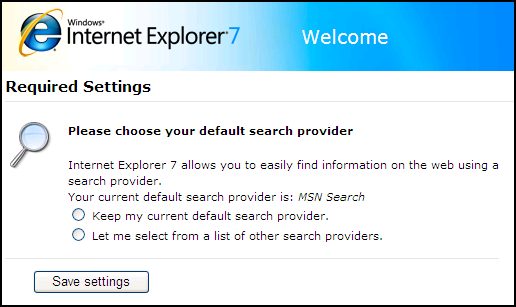 But it sounds like you've already got your system running and have MSN Search locked in. Fortunately, it's not really locked in, as you can find out by going to Tools > Internet Options
Now you'll see this: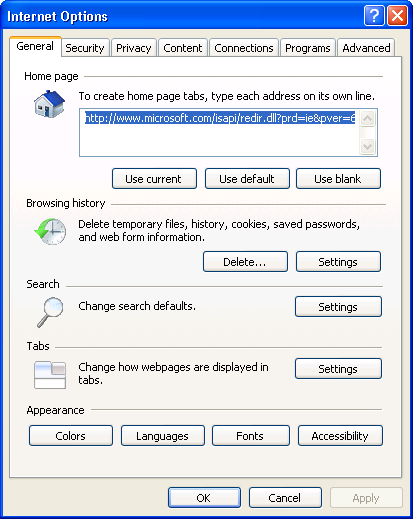 See 2/3 of the way down the section "change search defaults"? That's what you want. Click on the button "Settings" right next to that and you'll see: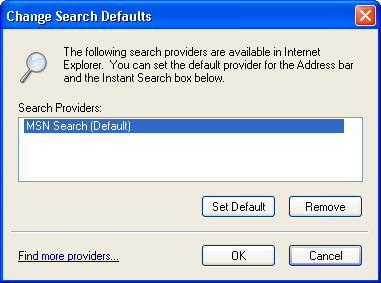 Click on the small text link "find more providers" on the lower left corner (funny how they don't make it a big visible button) and you'll go to this page:
Add Search Providers to Internet Explorer 7
. The page looks like this: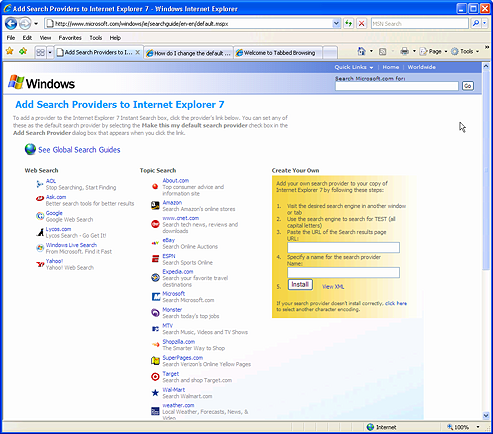 You can't see it, but most of the work is done behind the scenes. Indeed, all the URLs are the same. Open up the source and you'll find that, for example, you add Google search to your copy of IE7 with the following code;
<a href="#" onClick="window.external.AddSearchProvider("http://download.microsoft.com/download/A/3/C/A3C89D63- E2F0-460D-9F5F-23B51EA52B5E/Google.xml");">Google</a><br>Google Web Search
Yow. Not for the faint of heart, I'd say!
Fortunately, you can just click away and add as many of the search engines listed on this page to your copy of IE7 as your heart desires. Each time, you'll get the following confirmation: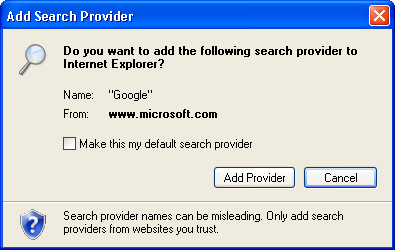 Click on "Add Provider" if you just want to add it to your options list, or check the box labeled "Make this my default search provider" if you want to go ahead and change the default at the same time.
One very cool feature is that you can specify ANY search engine, so you can even add Ask Dave Taylor to your IE7 search toolbar. You just do a search on the site you desire for the pattern
TEST
then cut and paste the resultant URL. On my site it'd be:
http://limbo1.intercast-media.com/cgi-bin/mt/mt-search.cgi?IncludeBlogs=7&Template=linksearch&search=TEST
Finally, once you add a bunch of choices, you can now go to that same option in Internet Options and see lots of choices: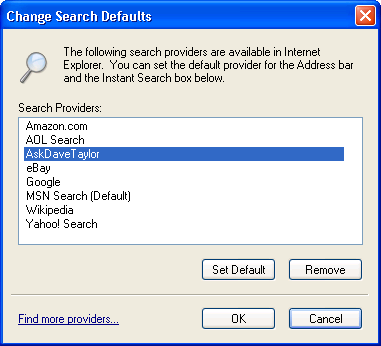 What's really cool is that you can now click the tiny downward triangle button on the far, far right and instantly switch which search engine you're using: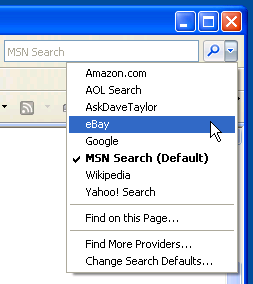 Now that's a genuinely valuable capability and one well worth learning how to configure if you're going to be using Internet Explorer 7.0.