I am a proud user of Windows XP. Not quite as cool as Linux, but hey, it's a family computer, and Windows is more widely used. Thus far I've only had one problem with it, my son put a password on the screensaver! Which doesn't bother me, because I know how to turn it off.
My question to you is, how do I CHANGE that password? Because when I open control panel and click the screensaver tab, it doesn't give me the option to change the password, only remove it! PLEASE HELP! I know in pst versions of Windows it was possible, but I don't even know if it can be changed in SP. So any help you could be to me would be greatly appreciated!
This is a common Windows question, actually. In a nutshell, what you need to enter when you return from a 'secured' screen saver session is your account password. There's no separate password for the screen saver, which is why you can't find where to change it.
First off, let me show you how to enable (or disable) password prompting after your screen saver has been enabled, then I'll show you how to get into your account and change your account password as you desire. Ready?
Log in to your Windows XP account, then from the START menu choose Start –> Control Panels –> Display Properties and click on the "Screen Saver" tab. You'll see something like this: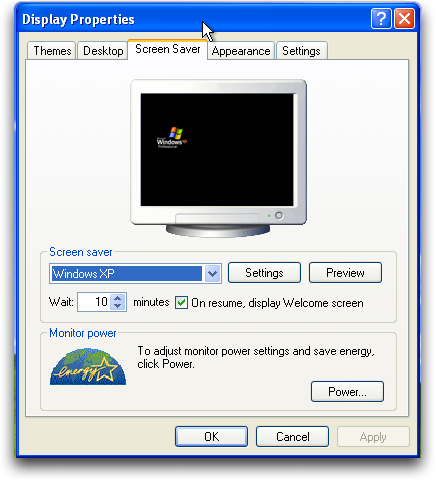 Notice in the middle of the window I have checked "On resume, display Welcome screen". That's confusing wording, but it's that checkbox that controls whether Windows requires you to enter your password to resume working after the screen saver has started. If you don't want a prompt at all, simply uncheck it.
With it checked, once you do have the screen saver running and want to get back to work, you'll be taken here on a mouse movement or key press: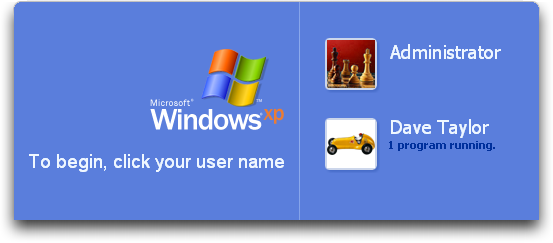 Click on your account and you'll be asked for your password:

Enter your password correctly and you'll be right back at your usual Windows view, no worries!
Okay, so that's how that works. If you do want to change your [account!] password, how do you do that? Turns out it's a little bit more complicated, but not too bad. Again, you'll want to be logged in and then go to
Start
–> Control Panels and find "User Accounts":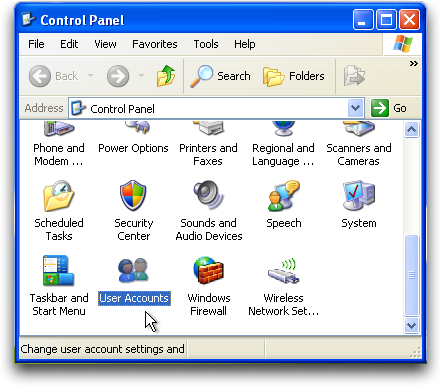 Open that up and you'll see something like this: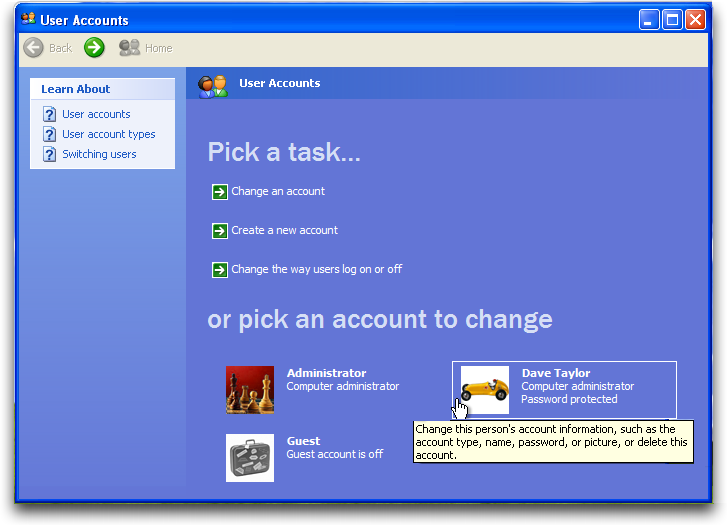 Pick your own account: I'll pick "Dave Taylor" here for the example.
Useful tip: Note that I have "Guest" disabled. You should too; it's just a big security hole otherwise.
With my account chosen, I get a set of simple tasks I can do, including "Change the password":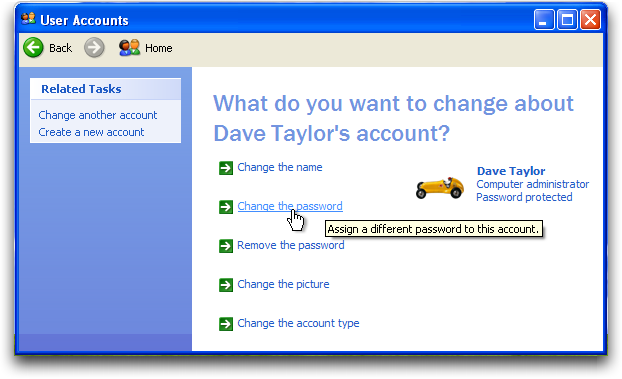 Chose that option – obviously! – and you'll get to type in a new password and even a helpful password hint so you don't lock yourself out after a long holiday: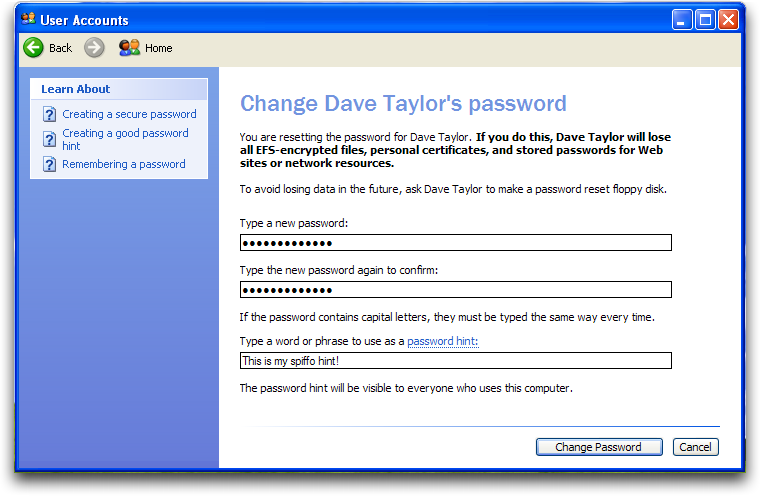 That's all there is to it. Click "Change Password" and you'll now find that the password you need to enter after your screen saver has been activated has changed too.