I have been trying to change my darn security question at America Online for weeks now, and every time I get to that area in AOL, it just says "temporarily unavailable. Please try later." What's up with that? isn't there some way I can use the AOL Web interface to change my security question before I get hacked again? Thanx.
Yes, you can change your security password at the America Online Web site, which is darn cool. Much of the process looks exactly like my earlier tutorial on how to change your AOL password at AOL.com, but let me go through the steps again so you can see exactly how to do it.
When you go to America Online's Web site, on the top right you'll either have a signin link that includes your account name (if you've ever signed on before) or a generic "sign in" message. Here's what I get:


When I click on it, I then have the chance to enter my account and password pair: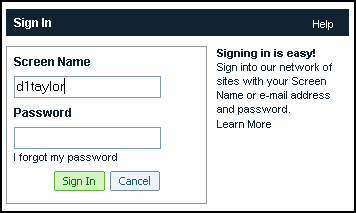 Fill that in, and you're now signed in to their (quite slick) Web based interface to the AOL service. There's precious little you can't do with the Web interface, so if you are an AOL fan, you should check things out while you're logged in.
Near the top is a set of primary navigation options, just below the search box:


Click on "My Account" and you'll be asked for your security question, to confirm that you're really you since you don't want anyone else tweaking your settings. That'll look like this:


My favorite film is … oh, yeah, let's skip that part of this article, okay? 🙂
Once you've verified your identity with AOL, you can now get one step closer to changing your AOL password. Here are the My Account settings you can access: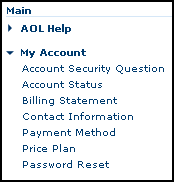 Click on "Account Security Question" and you'll get this helpful explanation:


Since this is such a critical change, you should be glad to see that you yet again have to verify your identity:


Do that and, finally, you can change your security question:


Unfortunately, there really aren't that many different choices here, as you can see:



I think that Google's
Gmail
service has a much better approach to security questions, personally, because you can enter your question and your answer, meaning that there are an infinite number of different security questions. With AOL, as you can see, there are only four or five snippets of info you'd need to be able to defeat this secondary account confirmation, the kind of info that's often included in a MySpace profile or related.
Anyway, that'll get you access to your security question. Hope that helps you out!