I know how to change my Hotmail password in the old version of Hotmail, but now that there's a new, fancier version, I'm kinda lost. Can you tell me how to change my hotmail password, uh, Windows live password, please?
Most of the approach is the same as in the older Hotmail interface, actually, and, of course, it's quite possible that when you read this article you'll find that it's changed again: look for an update at the end of this article with the latest instructions on how to change your MSN Hotmail password. 🙂
You need to log in to start.
Make sure that you start by typing in hotmail.com to your browser, rather than clicking on any sort of link in a mail message or on another Web site, even this one!
Now, on the right corner you'll see "Options". Click on it: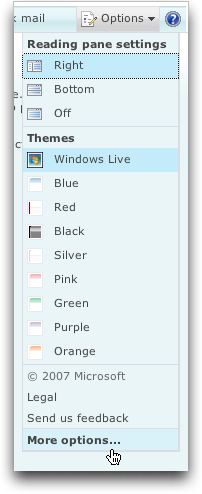 The choice you want is at the very bottom, More options…. Chose that and you'll see a familiar set of choices in your window:

You want the first one, and don't be surprised if it promptly asks you for your password again:

Now you'll be on "account.live.com" (check the URL in your browser) and you'll have something like this: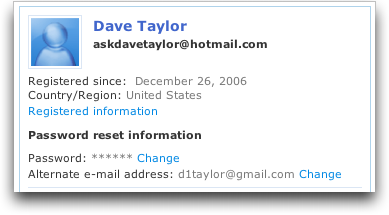 You can see the blue "Change" immediately adjacent to my password. That's what you want to click!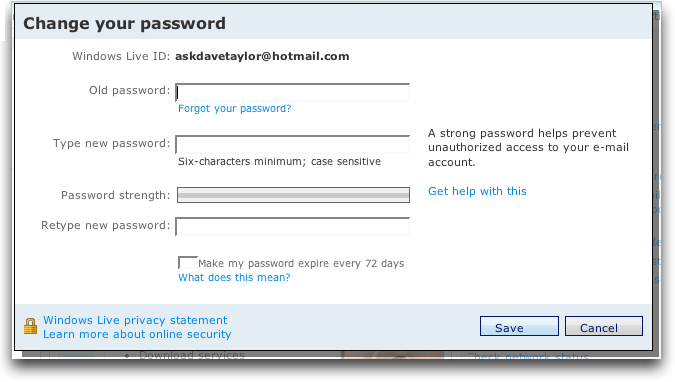 Enter your current password and your new password – twice – then click "Save" and you'll have reset your password and will have to log in again.
That should help you reset your password, something you should be doing every few months anyway, just for good luck!
Note: this article has been updated: how to change your MSN Hotmail password