I'm addicted to Facebook and am constantly posting updates from the Facebook app on my iPhone. Recently a friend pointed out that everything I post is only to friends, not to friends of friends or the public at large. For some of my updates, that's fine, but for others I do want it in the public eye. How do I change the Sharing settings on a wall update within the iPhone Facebook app?
That's a stumper. Impressive. I really had to poke around before I realized that it is actually possible and, once you know how, pretty easy to tweak on a status update or photo share by update basis.
First things first, though, if you're reading this, you'll need to have a copy of the Facebook iPhone App on your iOS device, or it won't make sense: the mobile-friendly Web interface you can reach through Safari isn't the same…
Have it installed? Great.
Now launch the app, log in to your Facebook account. When you post a status update on Facebook, the iPhone app doesn't show you with whom you've shared it, as is demonstrated by my status update about the terrific film The Artist:


To tweak the share setting of a status update before you post it, tap on the "Status" button on the top left. You've probably done that a few times before…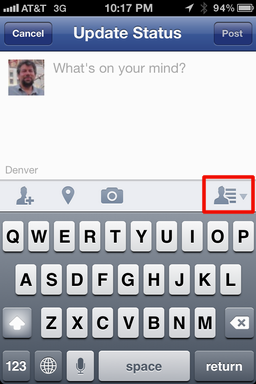 Now, on the right side just above the keyboard, do you see the icon that has a silhouette and four horizontal lines? That icon shows that I've constrained this status update to a specific list or group. To change it, tap on it.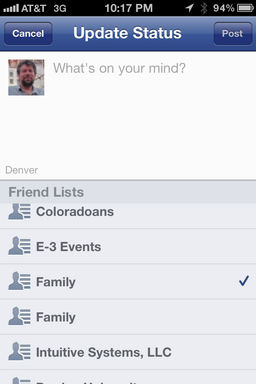 I don't want my next update to be just to one of my friend lists, however, I want it to be to the Public at large, so I scroll down with a quick swipe:


There's what I want. A tap on "Public" and the share option vanishes again and I can type in my wall post / status update for the world to read: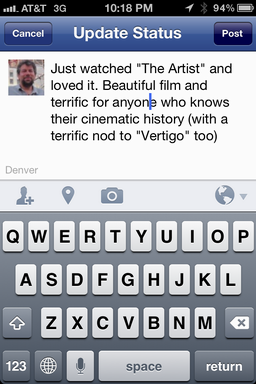 Look closely in the above: Instead of the sihloette as shown earlier, notice it's now a globe to indicate it's a public update. See what I mean? Once you know the secret, it's pretty easy. Now, go and have some more fun on Facebook!

Tip: Dig Facebook? Why not become a fan of my site there too, by Joining the Ask Dave Taylor Fan Club. I know you'll be glad you did!