Okay, I'm dabbling with Google Reader and am finding it pretty cool except for one big issue: every time I start up the program I have to read their "helpful hints" and am forced to click on "All Items" to see my news. Surely there's a solution?
One of the most common tweaks I've seen people make in Google Reader is just what you're talking about: instead of having the default be the Google Reader news, having it be the latest new entries across all your subscriptions is far, far superior!
Let me demonstrate what you're seeing, first off, and then I'll show you how to change it.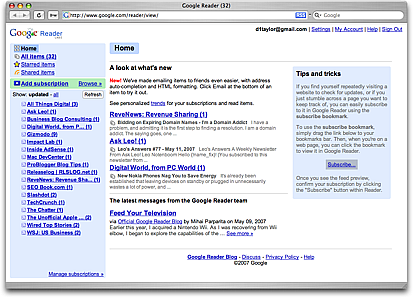 That's what you're seeing, but that's not what you want. As Bob the Builder would say, though, "we can fix it, yes we can!"
Click on "Settings" on the nav menu on the top right:
Once you're in the Settings area, click on "Preferences":

Just about done. On the Preferences page, you'll notice a pop-up menu of different
Start Page
options: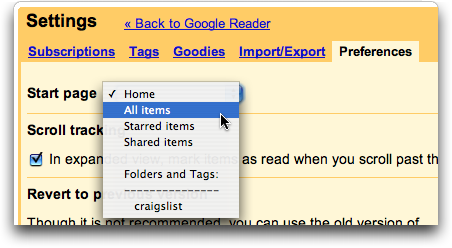 Simply choose "All Items" and look for the tip that everything's worked:
Your start page has been changed to "All items"
.
That's all there is to it. Now when you go to Google Reader, your default view will be the latest articles in all your RSS feeds: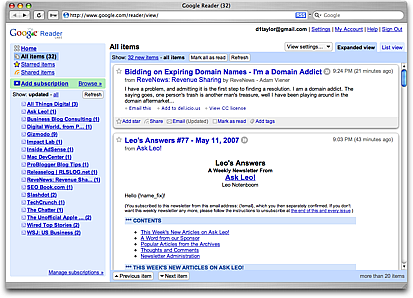 Since you aren't getting the latest Google Reader news, however, I would suggest that you also subscribe to
The Official Google Reader Blog
too. Here, this'll make it easy:
subscribe in Google Reader
.
For that matter, if you haven't yet subscribed to the AskDaveTaylor RSS feed, why not add that to your reader list too? It's easy:
subscribe to AskDaveTaylor in Google Reader
. 🙂