I have both an SMTP and a MobileMe account set up on my iPhone and just noticed that when I send email from the phone, it has a MobileMe return address, not my proper account address. I think it's picking the wrong account, not just wrong email, so is there a way to change the iPhone default email account?
While there's a lot that's hidden behind the scenes on your iPhone, there are also a surprising number of different settings you can tweak on your email account to get things "just so" for your needs.
Like you, I also have more than one account set up on my iPhone and it's a puzzle how it decides which account should be the default. My suspicion is that it's the first one that you enter when you're configuring the phone, but maybe it's the most recently added.
Either way, it's easy to change if you know where to look.
Let's start by me showing you how to tell which account has been selected. Do this by going into the Maiil app and creating a new blank message:


As I've highlighted here, mine is set to my MobileMe account AskDaveTaylor@me.com. That's not what I want, though!
To fix it I need to quit the Mail app and find Settings:


Tap on it and scroll down to "Mail, Contacts, Calendars":


Tap on that option, and move down to where you can see "Default Account"…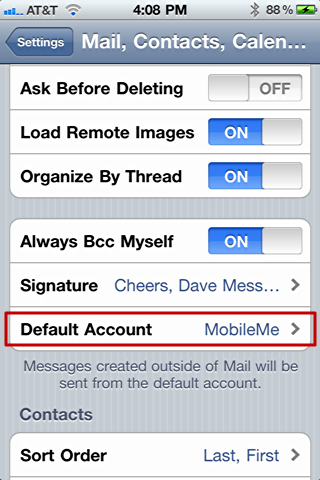 As you can see here, mine is set to "MobileMe", which is a problem. Yours is the same, I expect. No worries, tap on it and you'll see both of your accounts are listed as options:


Tap on the other account name (mine is "intuitive.com") and you're done.
Seriously, that's it. Just push the home button and you're back to your main page. Tap on the Mail app again and kick off a new blank message.
This time, however, it'll show your correct account in the from information:


Fixed! If you're curious, go back into "Settings" for "Mail, Contacts, Calendars" and check out some of the options to customize how mail is displayed, update your default signature, and much more. Very helpful.