How can I change from the default font size in NotePad to a size like 12 point? I have searched for this answer with no success, though I did read your note about changing WordPad's typeface size preferences. I use NotePad quite a lot and even when I manually change the font size it invariably switches back to 10 point.
Notepad doesn't give you any way, through their menus, to have personal preferences. However, you can still change these if you don't mind having to dig into your system and do a little re-wiring of notepad. Here's how to do it in a Windows system.
From within your Notepad program, choose File | Open. You should be looking for files of type "All" (not just text files).
Browse to your System32 folder, in your WINDOWS folder at the root. Often that means C:\Windows\System32.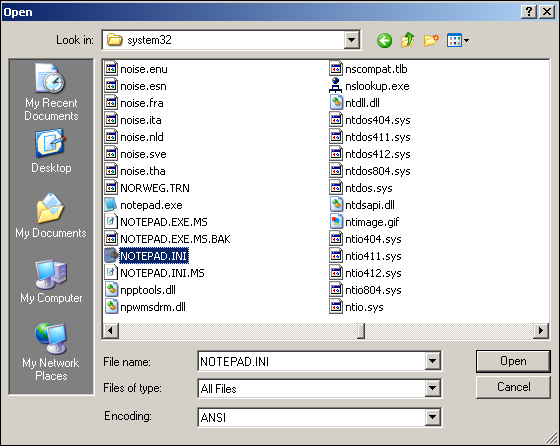 In your system 32 folder, find the "NOTEPAD.INI" file and open it.
INI stands for "INItial variables file". INI files are used to store default parameters including personal preferences for software programs. Since you want to change a personal default setting, this is where to do it. You might want to save a copy of your untouched INI somewhere else as a backup (good working practice when jimmying with the works of a program).
You should see a very small file with no or only a few lines of text. Do not delete whatever lines are already there. The contents of an INI file will vary, so yours will be different from the below picture, but the idea's the same.
Add a line to the file that sets your font size to 12 as shown below:


Now save and close your "Notepad.INI" file. Close and reopen the Notepad program, and your personal preferences should have taken effect.



Altering an INI file can be used to change any number of settings (on any number of programs) as long as the correct text is used when adding a new line of code to the INI file. A word or warning, though. While it can be very nice to customize your programs in ways that are not allowed through the standard menus, ocassionally this will affect the operation of the program in a way that you did not expect (think unusable). To prepare for this, remember to save your own unchanged INI file in a backup in case something goes horribly wrong.
Happy customizing!