Every time I send an email message from my Apple iPhone 4, it ends with "Sent from my iPhone" which is about as boring as I can possibly imagine. I've seen other people don't have this and I presume they aren't changing it for each and every message they send, so what's the scoop, how can I change my default email signature on my iPhone?
Whether you have an iPhone 3gs, iPhone 4 or even an iPad, it turns out that it's the same basic method for changing the signature, and it's part of the confusion around how iOS is designed: many application preferences are only accessible through the "Settings" app, not within the application itself. This is especially true of the Apple iOS utilities, where there are dozens of things you can tweak, but none of them are accessible from within the app itself, whether it's Calendar, Mail, Contacts or any of the others.
Once you know that, however, you can rummage around in the system and figure out how to make these sort of tweaks pretty easily, even if you're one of those clumsy iPhone users with big thumbs. 🙂
To change the default email signature go to "Settings", then…

You'll want to tap on "Mail, Contacts, Calendars" which will reveal a wide range of settings and preferences you can modify: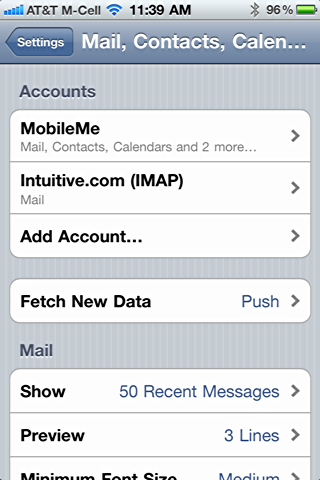 Scroll down a bit because the Signature isn't directly visible. Once you get there, it'll look like this: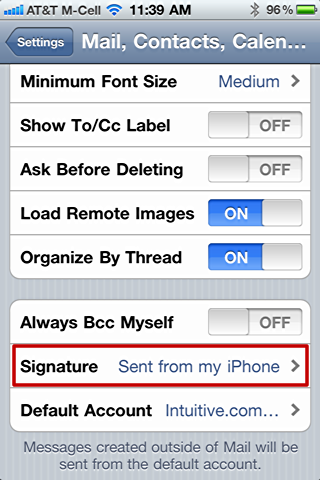 There's that culprit! "Signature" "Sent from my iPhone" ">". Tap on it!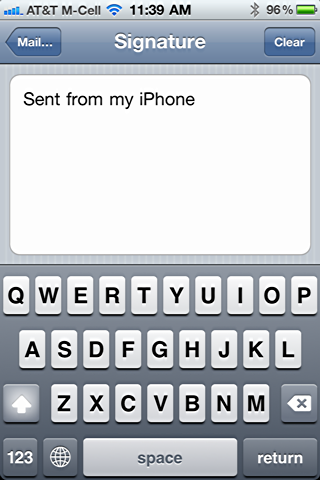 Here's where you can tweak and edit to your heart's content, creating the perfect signature for your messages. Unfortunately there's no ability to use rich text (e.g., different fonts, bold, colors, images, etc), but still, with a bit of creativity you can certainly do something better than "Sent from my iPhone"…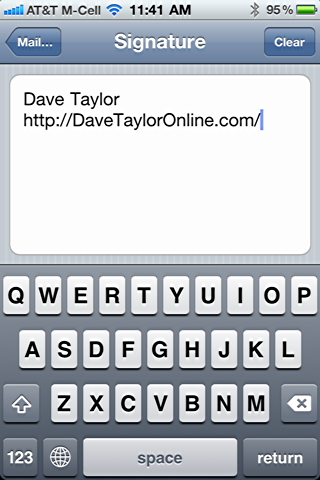 Once you're done editing, just pop back to the Mail app and compose a new message: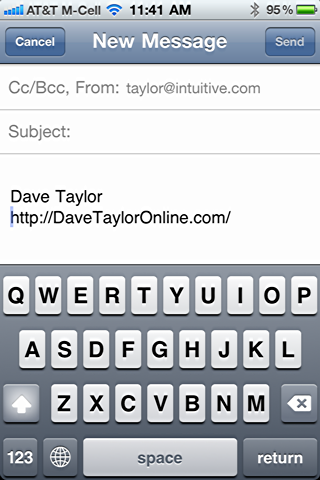 There's that new signature! Hope that helps you set things up properly. When you have some spare time, btw, go back to the Mail preferences and check out some of the many other features you can modify or customize.