I've taken the plunge and am now working with Windows 8 and it's not too bad once I got used to the Start Screen instead of the handy old menu that I was used to. But there's still lots of stuff I can't find. The latest: How do I change my account password in Windows 8 now? There's no convenient "Control Panals" to access…
Glad to hear that you have switched over to the new Microsoft Windows 8 system. It's definitely different to the previous generations of Windows and there are times when running it on a non-touchscreen device will make you feel like a second class citizen (I'll show one of those in a bit!) but still, it's the future and there's a lot to like about it, including the new start screen. A very different world.
Still, not being able to find what you want is a real drag and if you're trying to manage your own privacy and security settings, well, that should be really easy to find, right?
Fortunately, if you've been poking around even a bit you know how to bring up the main control strip on the right side of the screen (tip: move your cursor to the top or bottom right corner of the screen to bring this handy toolbar on screen).
Once you've done that, look for the Settings button, and click on it: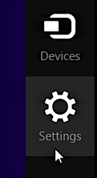 Now you'll see a pretty set of icons near the bottom, icons that replace all those tiny little lines of information off the antiquated start menu. 🙂


What you want to tap on, um, I mean click is the one that doesn't, ironically, have an associated icon. Click on "Change PC settings" and you'll see a completely new screen that is definitely finger-friendly for touch screens. On the left, "Users":


Click on "Users" and a bunch of different options are displayed, notably the section labeled "Sign-in options":


While we're at this screen, if you want to disable the password prompt each time the system wakes or want to add an additional user, both are available options on this page too:


Let's stick with passwords, though!
For fun, click on "Create a picture password", even though since it involves using gestures to log in rather than typing a password, it's not a great idea for a traditional PC or laptop. Once you click, it'll ask you to confirm your current password (to ensure someone else isn't monkeying around with your system and locking you out):


Once you've done that, an explanation of how picture passwords work in Windows 8:


The phrase "draw directly on the touchscreen" hints at the problem for us more traditional computer users: we can't do anything on a touchscreen we don't have. Ptoi!
Instead, cancel and back up to the previous screen, click on "Change your password", then again confirm you know the current password. Done? Good. Now you'll see this:


If you're guessing that you enter your new password twice and — if you want — add a password hint or tip then click on "Next", you're right!
Once you do that, here's what you get: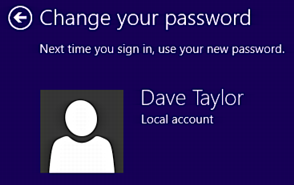 That's it. Welcome to the new world of Windows 8. Good luck!