Is there any way that I can change my Facebook newsfeed so that certain friends and family show up first, then everyone else? Right now my brother's updates don't show up at all!
Facebook has been trying to refine the algorithm it uses to figure out who you really pay attention to on your friends lists, and it's not really going that well. Turns out that's a really hard problem and there are people we want to keep track of even if we don't actually "engage" or interact with their content. An example might be a relative with very different political views: you want to know they've posted but you sure don't want to get into yet another argument with them!
Unfortunately, the Facebook algorithm is all about engagement. Do you comment? Like? Share? Because if you don't, it's assumed you aren't as interested in their updates. Over time, you end up engaging with the people you see more and like some weird echo chamber, you can have hundreds of friends but it's the same half-dozen people who show up again and again in your feed. Know what I mean?
There is a way to change that, however! One trick is to look for updates from your other friends and family and engage with them somehow (which helps them show up in your feed more frequently) but you can push people into the "follow first" category too.
To start, click on the downward triangle icon on the top right of the [Web based] Facebook interface. You get a menu like this: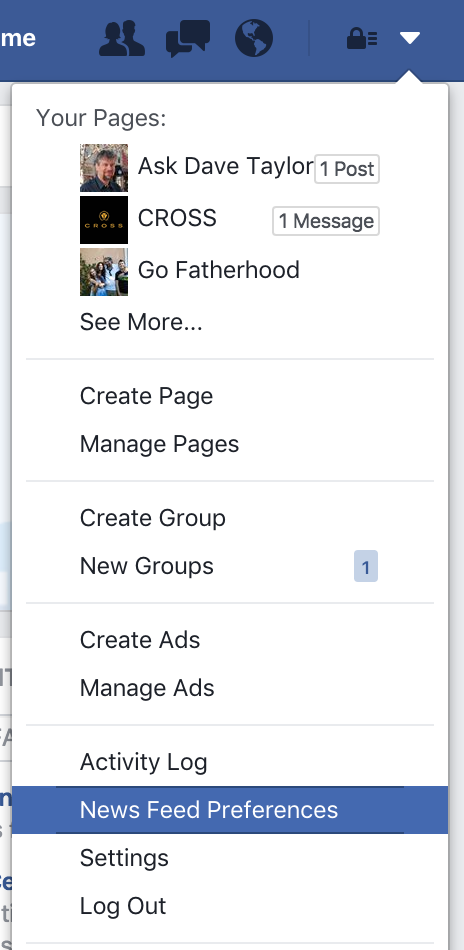 What you're looking for is the highlighted entry: "News Feed Preferences". Choose it and a big, cheery window pops up: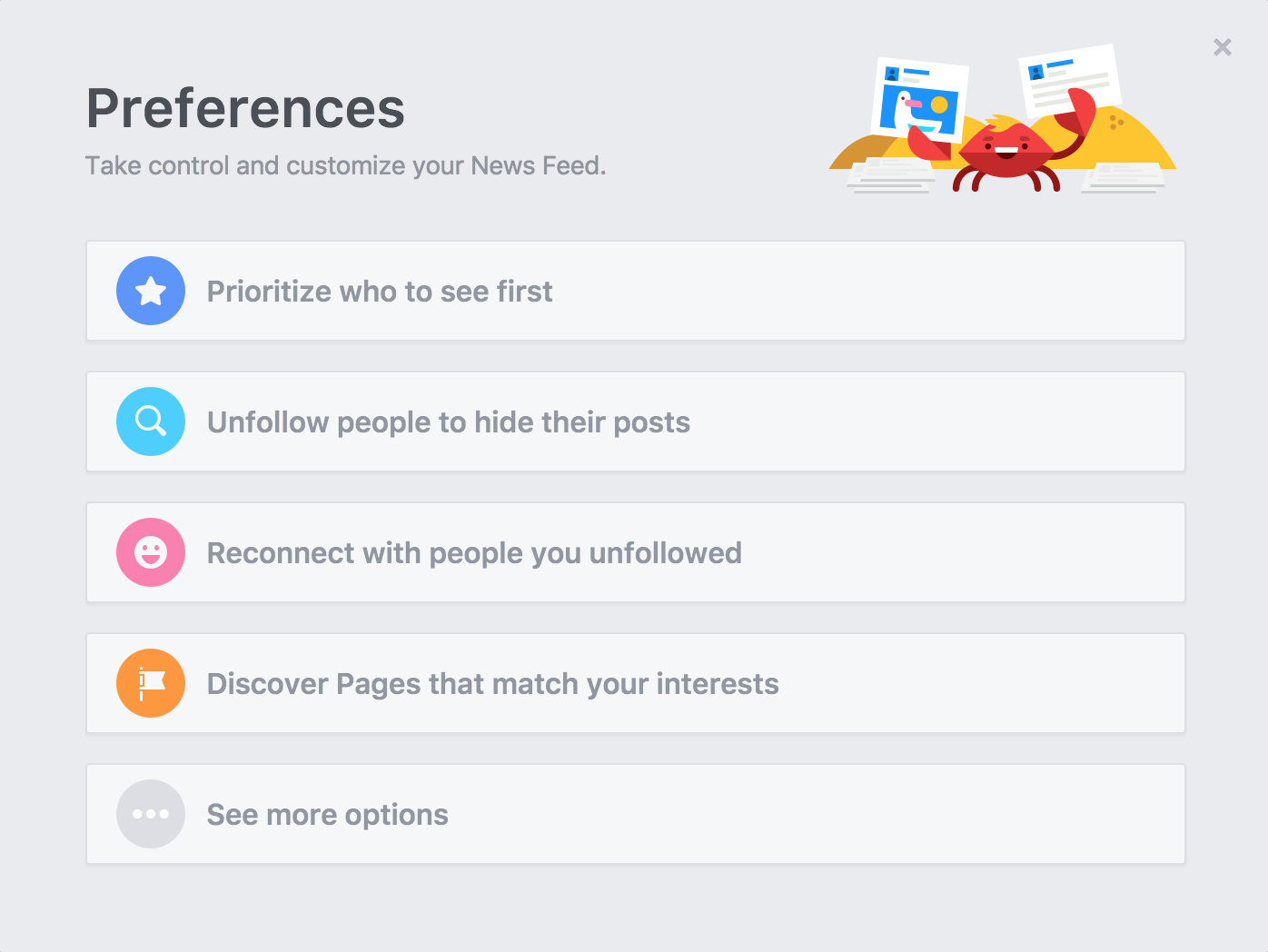 I'm not entirely sure ho a happy crab relates to anything, but… let's just roll with it. 🙂
Choose "Prioritize who to see first" and the window opens up below it: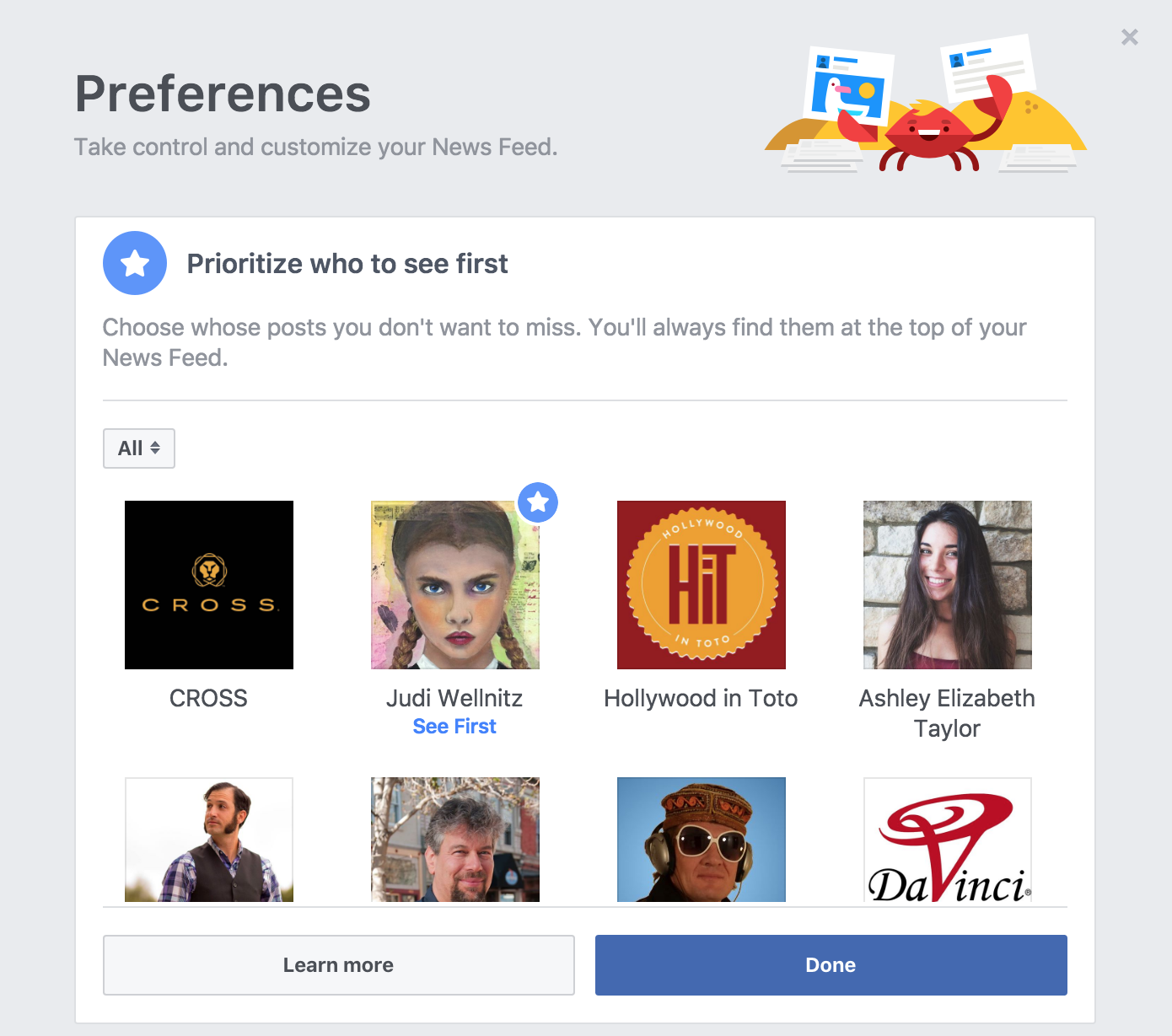 You can see that Judi Wellnitz (my sister) is the only one who has a star on her picture and has "See First" below her name. She shows up first in my Facebook newsfeed. Easy. Thinking you might have more people in that category? Choose "People you see first" from the menu that currently says "All":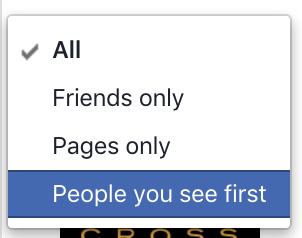 In my case, yep, it's just my sister: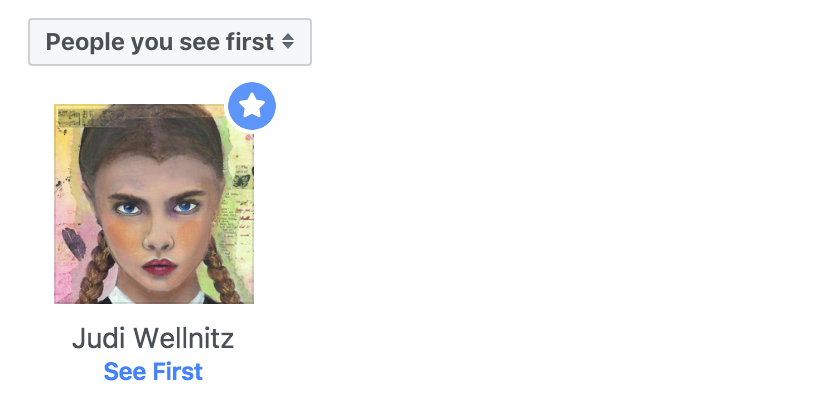 Go back to "All" (or "Friends only") and click on someone else's picture and they too will bump into the rarified air of See First. Like my friend Christian: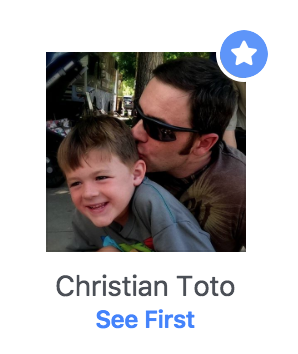 Easy enough. When you're done click on … you guessed it! "Done".
Or, if you want, explore the other options in this particular area of your Facebook settings and preferences. I suggest the "Reconnect with people you unfollowed" (which also includes pages you might have ignored):
Notice that Facebook remembers everything. Forever. Think about that for a minute too…