I'd like to change the setup of my Cortana system on my Windows 10 PC so she'll call me "Your Majesty". Is that possible, and if so, how do I change it?
I'm a big fan of all the smart interactive voice systems, but have to say that Cortana seems the least personable of them all. In fact, other than in answer to the question "what is my name?" I don't know that Cortana ever actually refers to your name in her (it's?) interaction, whether spoken or in writing. Still, it does have the ability to change from the first name you used with your linked Microsoft account, so let's have a look.
To start out, ask Cortana what your name is:
You can see I've asked "what's my name" to have Cortana answer "You are Dave."
Accurate, but, yeah, kinda boring. To change it you can simply type in "call me" and the name you'd like to be called:
Interestingly, if you try something like "call me ishmael" you'll find that a Web search takes precedent and it takes you to pages about the Melville classic Moby Dick and Cortana stays in the dark. I suppose it's just as well that Ishmael didn't have a PC on the Pequod, right? 🙂
Anyway, you can see that Cortana did pick up this query by the default match including that Cortana circle.
Okay. Click on it to proceed…
I am choosing "Mr. Taylor" but if you want "Your Majesty", well, this is where you'd type that in! Enter the word or phrase you'd like, then click or tap on Enter to proceed.
You can fine tune the pronunciation as needed but Cortana will probably get it right if it's not too obscure or peculiar!
All good? Click on Sounds good and you're done. New name all set up and ready for Cortana to use when she talks to you, right?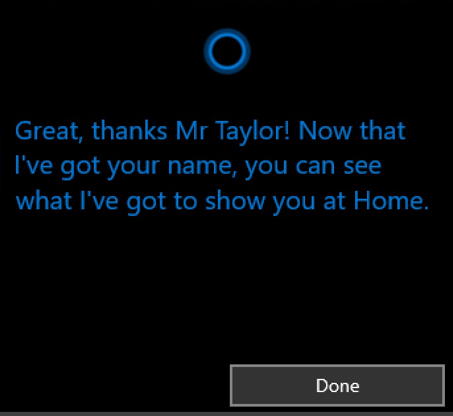 What's puzzling though is that she's a bit challenged in the short-term-memory department, because if you now click Done then ask yet again what your name is, Cortana does not actually reflect back the change you made!
Then again, since she doesn't really ever mention your name or refer to you by name, it might not be that big a deal anyway. And who knows, perhaps we'll get a Cortana update in the next system release and she'll suddenly be all sorts of chatty!
Pro Tip: I have hundreds of useful Windows Q&A articles here on the site. Please check it out while you're visiting!