I was trying to boot my old Toshiba PC computer off a restore DVD and it just ignores it, always restarting off my hard drive. How do I change the order of boot devices so the PC looks for the DVD first?
This is a cool throwback question, really, because I haven't messed with boot order or anything at that low a level on a Windows PC in quite a while. In fact, what you want to do is change the settings of your computer's BIOS, know as the basic input/output system. It's the sort of mini operating system that helps your computer know where the keyboard is, what the display is and where to find the hard drive so it can boot up. After a second or two, the operating system that you run (Mac, Linux, Windows) is read off the hard drive or solid state drive (SSD) and your system start continues. Heck, on some systems, it flies through the BIOS so fast that you might not even see it!
There are a couple of BIOS options out there, but the most popular has always been Phoenix. It's gone through some evolution but less than you may think because it is so low level. As a result, the screens I'm going to show you are going to look really, well, primitive.
Ready?
Restart your computer and as soon as it starts to boot, push and hold down the F2 function key.
Keep it held down until you either see the below on your screen or you've booted into Windows. If the latter, try the same process, but this time try the F10 key instead. Some use one, some use the other.
I won't say it's old but can you see the reference to a 1.44-inch floppy diskette? Super, super old school!
Use the right arrow on your keyboard to step through main sections (notice on the top they are Main, Advanced, Security, Boot and Exit). Stop at Security for a second:
You can set up a boot password on the bottom entry. Kind of a pain, but useful if you're concerned someone might steal your computer and access your files by starting up with their own OS rather than your default. If you set that, do not forget your password as that will likely brick the computer, never to be used again.
Okay, let's move on. Using the right arrow button, choose "Boot" from the top menu.
Now you'll want to use some other keys to reorder things: the higher the device shows up on the menu, the sooner it's checked for a bootable operating system. In fact, above you can see that CD-ROM drive is below Hard Drive, which is why I'm not able to boot off a disk either.
To change the order, use the up/down arrows to highlight the device you want to change ("CD-ROM Drive"), then use the "+" key to move the device up in the stack. Went too far? Use "-" to move it back down to where you want.
When you're done, it'll look like this: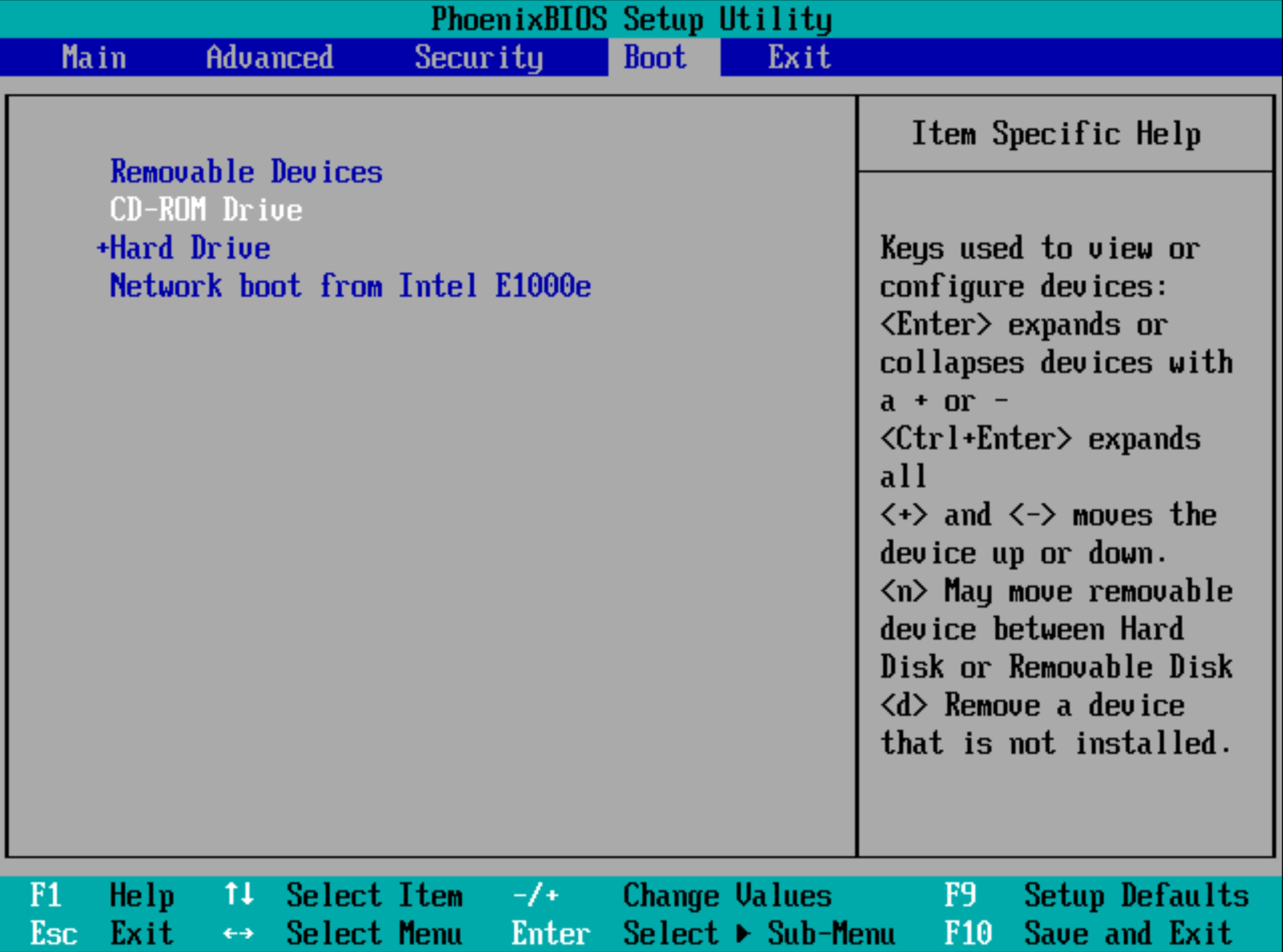 That's it. Now just press F10 to "Save and Exit". It'll confirm you want to change the BIOS settings:

You do, so use the Enter or Return key to confirm "Yes". Then your system will restart and it should check the CD-ROM drive for your DVD and boot from that without any further effort. Done.