I constantly use the Preview app on my Mac system to fill in forms and other paperwork. Works great. Except when the font is too big, at which point I'm stuck because I can't figure out how to make the text smaller. Help!
Of all the apps that get zero visibility in the Mac universe, there are few as useful and powerful as "Preview". It has a lot of capabilities that most people don't realize because I suspect that just about everyone uses it as a PDF reader and nothing else. But it actually lets you annotate PDFs and fill in PDF-based forms, among other things. You can also consolidate multiple PDFs into one, remove specific pages if you want to tweak things, and much more.
Heck, you can scan and then insert your actual signature, something I've been doing for years with great effect.
Frankly, I would be happy if I never had to print out a document so I could fill it out. But that's another story.
The way that it's designed to work with text annotation, however, is frustrating because there's a menu item that's not the correct choice, even though it absolutely seems like it should be.
Here's an example. I'm filling out a PDF form and click in the space, then type in my name:
That's big for the space allocated. Not so good.
I click out of the region, then click on it again to select it, then look on the "Tools" menu: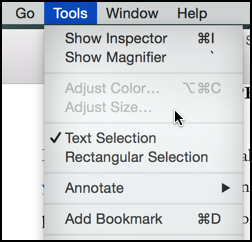 "Adjust Size…". That's it!
But it's not. That's why it's grayed out. Confusing, eh?
Instead, you need to actually bring up the Edit Toolbar by clicking on the tiny toolbox at the top right of the document:

Ahhh… now you see the toolbar and can click on the "A" (font) menu:
That's it. Just choose a smaller font size and it'll clean up that doc in no time:

That's much better. Even more useful, you also just set the new default as Preview remembers the last font size you specified, so next time it'll be 12pt Helvetica, or whatever you specified.
That's it. Glad you know about the secret powers of Preview. It's one of my favorite Mac apps.