I don't really like my kids having accounts on Microsoft's service so I have set them up with local accounts on our family PC. But how can I change their account pictures from the default?
It's interesting how in its zeal to have people use the cloud for account information Microsoft has pushed a generation of parents to add children's accounts that are in their database, not just local. Yes, you can create local accounts, but it's a chore. Fortunately for your children you have figured out what's required to set up non-cloud accounts for them. I have to say I much prefer the Mac approach of every account is local and you can optionally set up an Apple ID and have it also be in the "cloud" too, or not. Same process, just as easy.
Be that as it may, you as the administrator on a Windows machine have some control over their account, including being able to bump them up to administrator or – better – ensure that they just have a regular user account. What you don't have, however, is the ability to change their profile photo. But if you know their account passwords (which you probably should if they're younger) you can easily pop in, set their profile pic, and sign out again.
I'll step through the process, starting with the list of accounts on my PC. As you can see, "Tintin" is missing his profile picture!
If my system is set up to automatically log me in – as many PCs are configured – or I'm already logged in, it's easy to switch user accounts by clicking on your account name in the Start Menu on the lower left edge: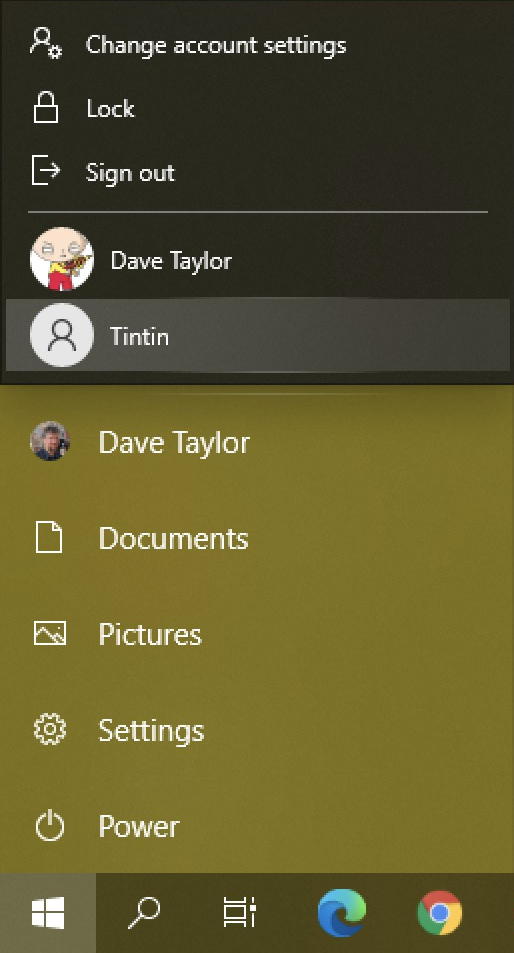 Here I can either "Sign out" or, if I want to leave everything running and as I prefer, switch to Tintin's account by simply choosing "Tintin" from the list of other users.
Notice above that the Stewie cartoon image "Dave Taylor" account is paired with a Microsoft online account, while Tintin is a local PC only account but there's no visible difference in how they're displayed.
Switching to Tintin requires a password, PIN, fingerprint scan, or whatever other form of ID has been set up: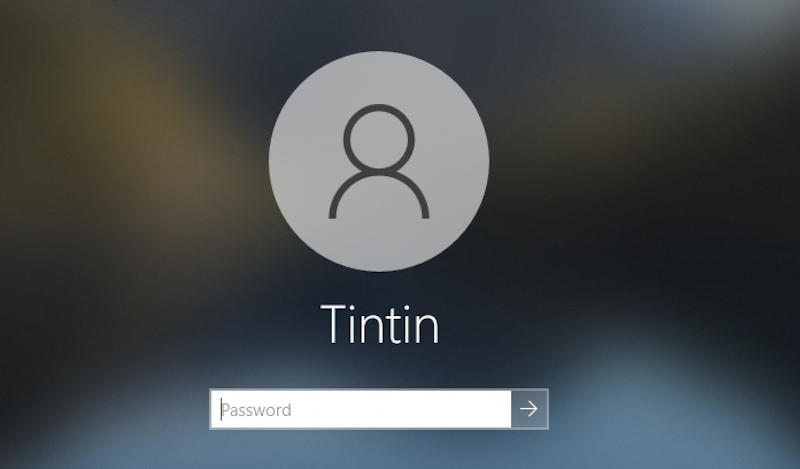 Definitely needs a profile picture, just as your kids will be happier when their accounts have profile pictures too, either of them or their favorite cartoon characters, animals or even sports team logos.
Once logged in, search for "account picture":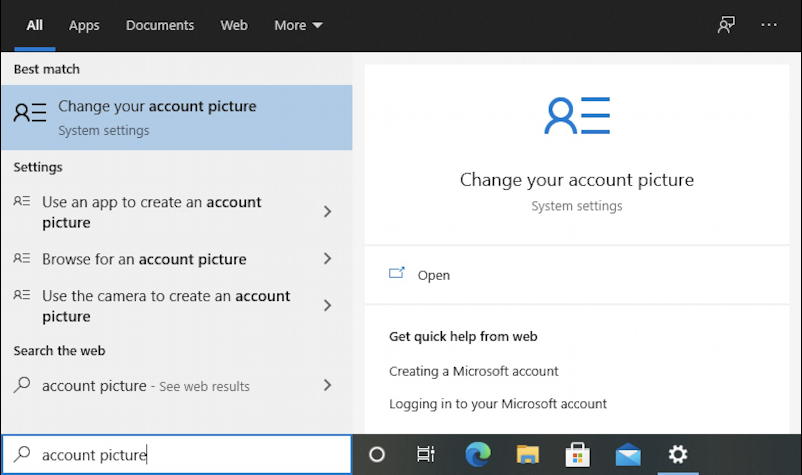 That's the match: "Change your account picture". If you want, now's a good time to pop open Microsoft Edge and hop over to Bing Image Search to find a suitable image if you don't already have one on the Desktop and ready to use. I'm ready to go with this, a perfect image with a white background.
A click or tap and the System Setting is ready to make the change: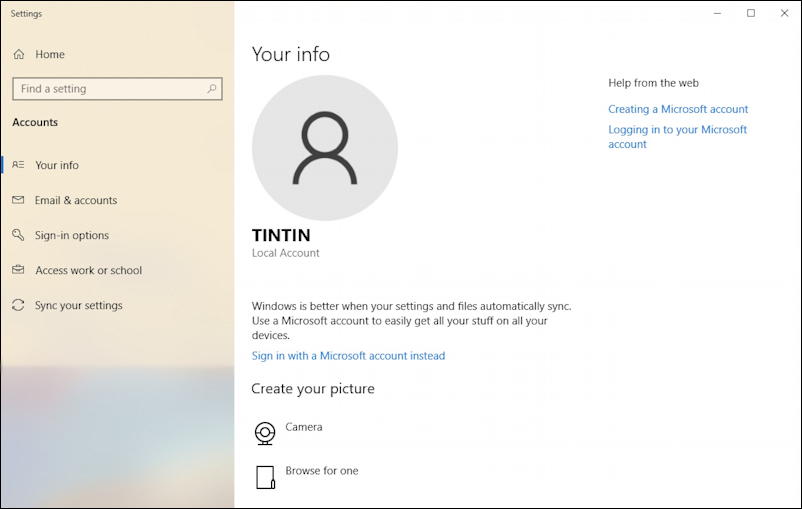 Since the image is already on the Desktop you might think that you can just drag and drop it onto the big grey circle to replace the default with that image…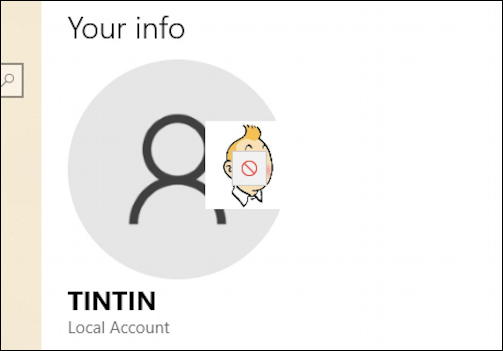 That's a nope.
Instead, click on "Browse for one" at the bottom of the Window and choose the image you've saved: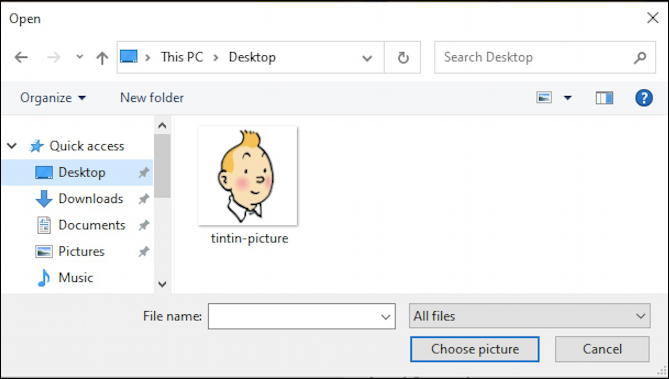 A click on "Choose picture" and it instantly becomes the new account profile photo: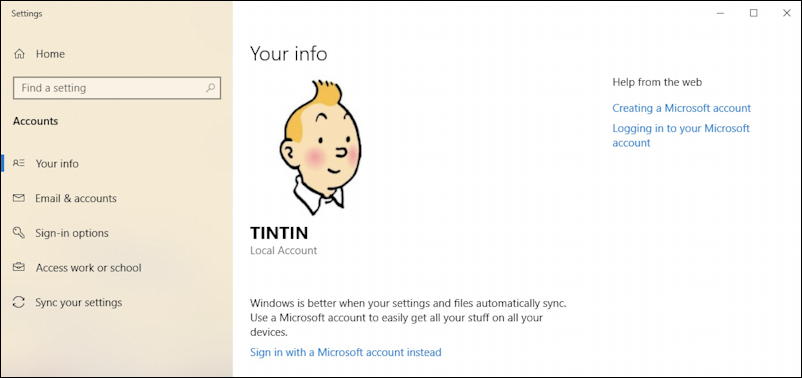 Unfortunately there's no way to zoom in or out or pan so that the portion of the image you want is perfectly centered, so I have found that adding some additional margin to pictures in a graphics editor can help achieve the perfect result. Or just run with it, your kids will probably be delighted regardless!
Looks good? Then log out by going over to the Start Menu and choosing "Sign out", as shown earlier.
Definitely a big improvement for our friend Tintin's account!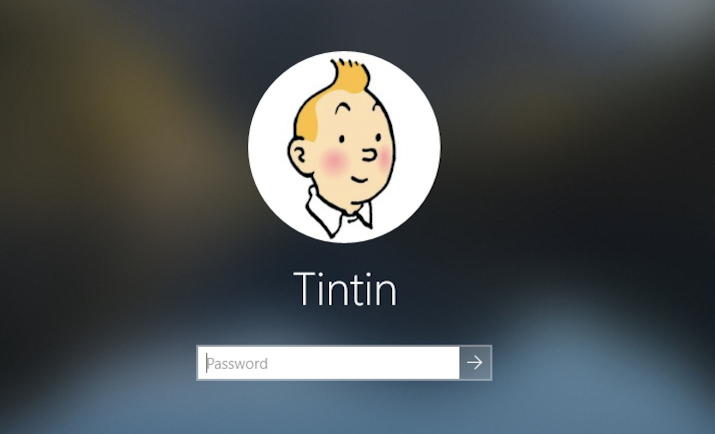 While you're logged in to your child's account, don't forget that you could also do a Bing image search for HD wallpaper images if you're inspired, save one, then right-click and "Set Picture as Wallpaper" from the context menu. Sure to delight!
Pro Tip: I've been writing about Windows since the beginnings of the operating system. Please check out my extensive Windows 10 help library while you're visiting! Thanks.