Pretty sure my sister has shared my Netflix account with some of her friends and that a lot of people are now using it: I get weird shows on my "recently watched" list that I know she wouldn't like. So how do I change my password so I can cut 'em all off?
Netflix is a membership site that's just made to be shared. I used to share my account with my Dad, even though we lived in different states. In fact, my account is "two screens + HD", which means that two people at a time can be viewing whatever they want from Netflix. You plus a child, you plus a sibling, or you plus a friend or roommate. Until other people also start sharing the account, at which point it's not only bad news — what if you're #3 and can't watch a show on your own Netflix account? — but likely a violation of the terms of service anyway.
We had a similar situation in my family when one of my children shared our Netflix account password with a friend who was bedridden for a week or so, without telling me. Now there's reason to believe that the sick child has further shared my Netflix credentials with additional friends. I really, really don't want to be paying for community Netflix, needless to say!
There are two parts to this fix, and you should count your blessings that one of your sister's friends didn't decide to go into your account settings and change the password, shutting you out of your own account. Yikes!
To start, go to Netflix on your computer and look on the top right once you've logged in. It'll look like this:

Click on the tiny red downward pointing triangle adjacent to your name. It'll pop up a menu: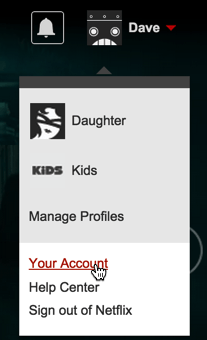 Choose "Your Account", as you can see I'm doing in the above photo.
Now you'll see a lot of different options and settings. Look for this:
Guessing you click on Update email and password? You're right!
Click on it. Now you get a pretty easy to understand window: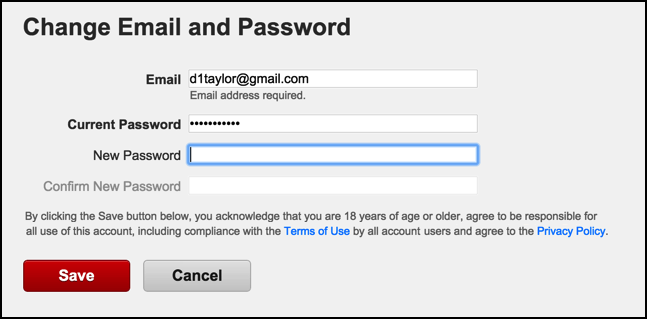 Pick a good, easy to remember but hard to guess password. Not "netflix" or your name. 🙂
Done? Click "Save".

Great. But you're not done yet, because if they're using something like an AppleTV or an Amazon Fire TV, they could remain logged in to your Netflix account for weeks without ever knowing the password changed. Not good.
To force every device to log out, simply scroll down a bit on the "Account Settings" page to find this:
Click on Sign out of all devices and everyone else will get the boot, whether they're connected to Netflix via tablet, smart phone, media device or computer.
Now you're good to go. And you might really want to consider suggesting that your sister get her own Netflix account. It's not like they're particularly expensive…