I just found out that my daughter's been using Snapchat with her friends, having signed up with my email address. I want to change her account name or just delete the account. How do I do that with Snapchat?
The first thing you'll need to do is download the Snapchat app for your Android or iOS phone — it's a mobile app and requires mobile access. Then you'll want to log in to your daughter's account — and if you don't know the password, simply request a reminder to be sent to your email address — then follow the steps below.
Interestingly, when I went to sign up for Snapchat myself, I found out that someone I don't even know had listed my Gmail email address as their account address. Since Snapchat doesn't require that you confirm the address, he'd proceeded to use the account for who knows how long without me having a clue. Once I realized this, however, it was easy to change the password and, ultimately, to delete the account and re-sign up using my email address for my own account.
To start, I reset the password and logged in:
You can see that my mysterious hijacker hadn't added a selfie. Perhaps that's a good thing!
On the top right is a gear icon. Tap on it and you'll get to Snapchat settings: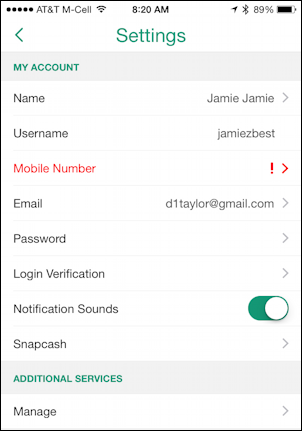 Notice that "Jamie" hadn't confirmed their mobile number or had but Snapchat recognized I was using a different phone but that somehow my email address wasn't flagged as unconfirmed (and I'm positive I never confirmed their account!)
Here's where you would think you could find a "delete" or "manage account" or similar, but it turns out that the fastest and easiest way to actually delete the account (because it turns out that you cannot change account name on an existing account) is further down on the screen. Swipe down to find the Support entry, as you can see below:
A tap on "Support" to get to the help area and a quick swipe downward to get to the popular topics (on a different site these'd be called faqs, or frequently asked questions).
Look at the fifth most popular support question:
Tap on How do I change my username? in the Snapchat app and you'll learn the sordid truth: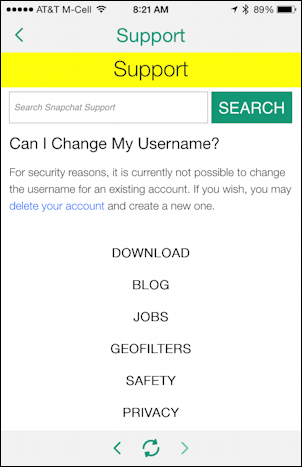 So, in fact, you can't change your username, nor can you change the username for your daughter's account tied to your email address. Nor can I change to stop being Jamie on Snapchat either. The solution is simply to delete the Snapchat account and start over.
Tap on delete your account on the explanation of why you can't change your username and it'll then be pretty straightforward:
You'll need to enter your password again – a smart idea in case someone else happened to pick up your phone and wanted to cause some mischief – and then simply tap on the big yellow Delete Account button.
That's all there is to it. Done.
Hope that helps you clear up any confusion with the Snapchat accounts in your family!