I've had a Nike Fuelband on my wrist since they first came out and it seems like I'm getting more active as time goes on. I'd like to increase my daily fuel goal! How do I do that on my iPhone?
First off, it's worth pointing out that while the band is fairly sophisticated — and the Nike Fuelband SE is even more sophisticated too — this is not something you can do directly on the biometric tracking device. However, there are a couple of ways you can adjust your daily fuelpoints goal, one of which is through the Nike Fuelband Web site, but that won't actually affect the band until the next time you sync.
A better way is to use the Nike+ Fuel app directly on your iPhone, and if you're like me, you've had that app since the first time you unboxed the Fuelband and tried it on your wrist!
The Nike+ Fuel app has actually gone through some major behind-the-scenes revisions recently too, notably being able to take far better advantage of the motion sensors built in to your modern iPhone. This means that theoretically at least, you don't even need a Fuelband for it to help monitor your activity. If the phone's always in your pocket, that is!
In any case, the iPhone app is the fastest and easiest way to change your fuel points goal, so let's do that. Start by going to the main display to see how you've done so far today: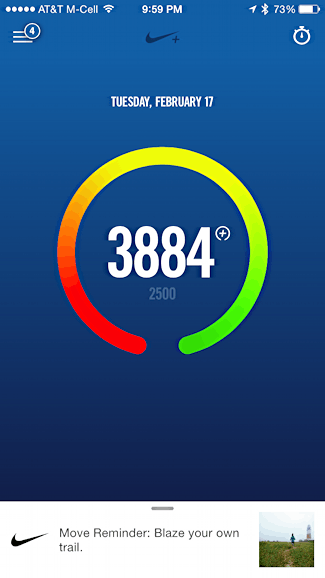 That's pretty good, 3884 points. Notice the grey "2500" below it. That's my daily goal, 2500 fuel points.
Let's up that to 3000 to help spur me to be a bit more active.
Tap on the top left of the screen where there's a set of horizontal lines and, often, a number indicating how many notifications are new since the last time you were in the app:
Now tap on the gear icon in the middle of the navigational menu along the bottom of the screen.
You'll see all the preference and setting options:
If you're guessing "tap on the Daily Goal" line near the top, you're right. 20 fuelpoint bonus!
Tap on "Daily Goal"…
Time to increase it 20%, as it suggests. You can tap one of the increment suggestion boxes to adjust your daily goal or you can just tap on the current daily goal and it'll let you tap in whatever goal you'd like:
Once you have the new goal shown on the screen, it'll look like this:
Looks good. Tap on "Save" on the top right and you're done.
Now let's go hit the gym!