I have an unusual file organization system on my Win7 laptop and am wondering how I can ensure that the Windows 7 search system is indexing all of my folders?
Windows 7. You're going back in time a bit, but since a lot of people are quite vocal about not liking Microsoft Windows 8 and its "start page" alternative to the Start Menu, you're not alone. In fact, according to StatCounter, Windows 7 is still the most popular operating system running on PCs and laptop computers, far more so than Win8 and Win8.1 combined.
I've switched over to Windows 8.1 myself and will say that if you're running it on a system with a touch interface (touch-enabled laptop or tablet) then the user experience makes a lot more sense. If you're on an old school mouse or touchpad system, however, it's a bit weird and it doesn't look like Windows 10 (Microsoft is skipping #9) is going to help that much. Crazy.
Anyway, back to topic!
If your folders and files are all within the "Users" space, you should be fine with your organizational strategy, but here's how to check…
First off, go to "Control Panels" and make sure you're viewing the "Advanced" options to ensure everything shows up. It'll look like this:
Look for Indexing Options. You can see it in the right column, just below "Getting Started".
Click on it.
Here's where Windows 7 lists every area that's indexed. Notice that "Users" is included (though app data is excluded, but that's a good thing: Most of that app data isn't human readable anyway).
Want to have it exclude your Microsoft Outlook email archive from the file index? You can do that. Click "Modify" and remove those you'd prefer to skip:
Instead, though, back up and click on the Advanced button near the bottom.
You'll then be able to see the Advanced Options:
Again, here's a place you might want to check, particularly the file settings. Index not working right? You can Rebuild it, but it'll take a few hours, beware.
Tip: For the index to be useful, you should leave your computer running but idle for a few hours every day or two so that the system has time to index anything that's new. A lot of laptop users in particular never leave it to run system tasks and that ends up being a problem in the long run. Once every few weeks, you might even leave it running overnight while you sleep.
One more stop: Click on the File Types tab.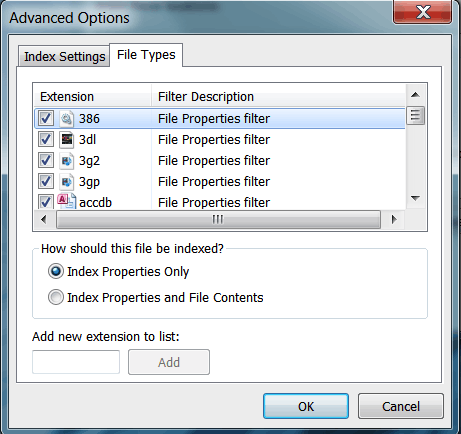 If you are really geeky, you can actually step through all of the zillion file types that your Win7 system knows and specify exactly how each should be treated for indexing, either not indexed at all, indexed by properties (filename, date created) or to have its content indexed too (e.g., a Word document).
That should help you tame the file search system on your Microsoft Windows 7 computer. Good luck!