I dropped my Application folder onto the Dock on my Mac system and it makes it much easier to get to apps. But it's a really weird display where a dozen icons arc across my screen. Is there a better way to display app icons on the Mac?
It seems really simple, that D0ck sitting on the bottom of the screen on your Mac system, but it's pretty smart. In fact, between that and Spotlight (which I do hope you use extensive), you need never open up your Applications folder to find a program on your Mac system again. But there's a bit of customization required to get the Dock to meet your needs. I've written before about basic Dock configuration for your Mac, but this time, let's dig into the way that it displays the contents of folders you drag onto the Dock.
To start, use the Finder to identify the enclosing folder of the contents you'd like to have easily accessible from the Dock. You could use this for Downloads, Pictures, Movies, or, in this case, Applications. Then drag the folder icon from the Finder directly onto the Dock and everything should magically move out of the way so it can be added. Once you're done, you'll have a Dock that includes favorite applications and one or more folders. Like this:

There are actually two folders being displayed in the above image. The one with the "keyhole" icon is my Applications folder and the Dock is showing what it calls a "stack" of icons representing the contents. Adjacent to it is another folder with a more traditional folder icon that's my Downloads folder. Handy!
By default, your Mac wants to display the contents of a folder on the Dock in "fan" mode. That looks like this: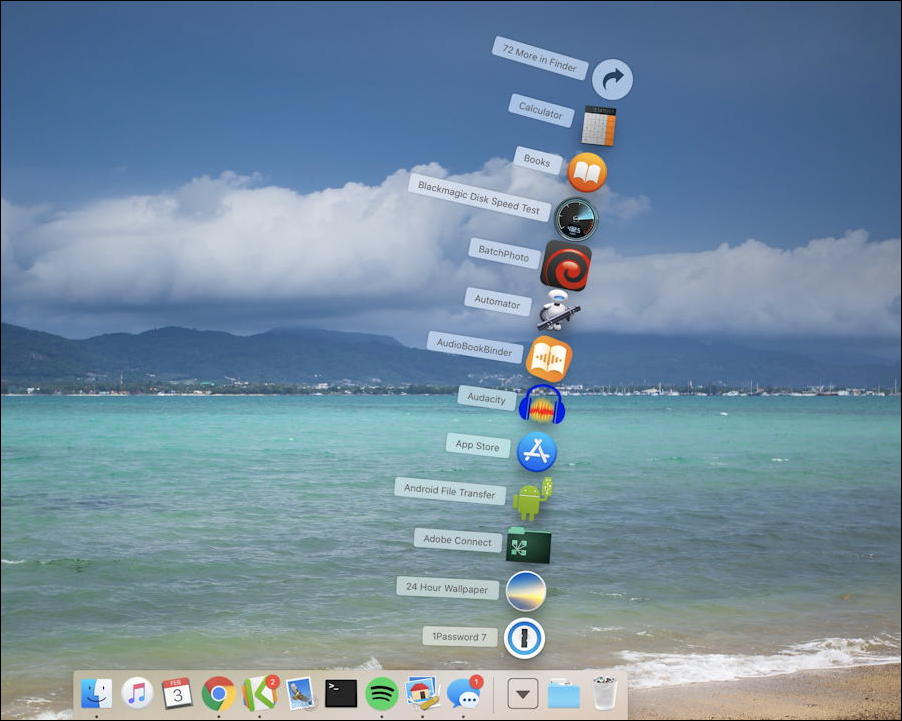 It's fun and a bit whimsical, but if you have more than a dozen or so items, it's pretty inefficient!
Instead, Control-click on the folder icon (or stack) on the Dock. You'll get a menu with a variety of different options:
Topmost is what order you want the information sorted, defaulting to name. For photos, date created might be better, but for apps, I like having it by name to make finding specific apps quick and easy. The second section, Display as, affects how folder icons are shown within the Dock. For my Applications folder, as you can see, it's "Stack". For the Downloads folder next to it that's just "Folder".
The fun gets into the View content as area, as you might imagine. The current display is "fan", but let's change that to "list" so you can see how dramatically different it can be:
But the one I actually prefer since I like the visual side of MacOS X is "grid". That gives you a display very similar to the 'icon view' in the Finder, as you can see: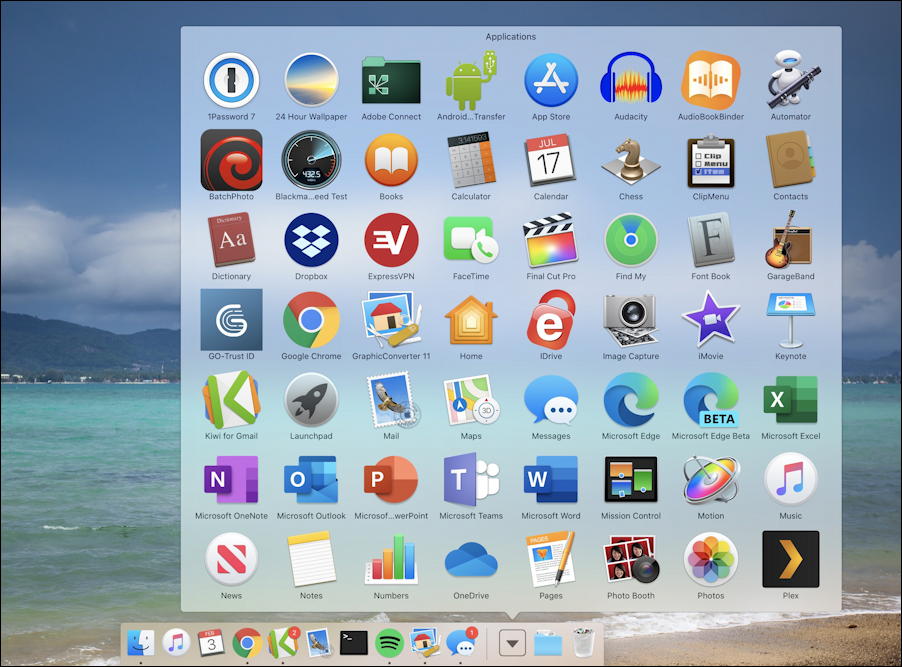 This is where you also get to see which application developers came up with really cool and informative icons for their programs and which did something dull and uninteresting. My favorite of this list is a tie between Audacity, Automator, Final Cut Pro X and Motion (though the Motion icon tells you nothing about what the program actually does). Winning the award for dullest are the entire set of Microsoft Office icons (yawn), Plex and 24 Hour Wallpaper.
But…. back to topic!
Look at the difference between the size of the icons on the Dock and those in the grid view from the Dock's display of my Application folder. Bigger mouse targets = faster and more accurate clicks = a more efficient user. You might think you like tiny buttons, but trust me, the science shows that bigger buttons will set you free! 🙂
Oh, and finally if I wanted to make the folder for Applications a bit easier to recognize, I can switch it from "stack" to "folder":
It does get the "A" on the folder, but still… boring.
Anyway, that's everything you want to know about the Dock and its display of folders. Now go and customize your own!
Pro Tip: I've been writing about Mac systems for quite a while. Please check my Mac help area for an extensive list of tutorials!