I've been trying to give my eyes a break by using dark backgrounds on my laptop screen. Can I switch File Explorer itself to have a dark background or use "dark mode" in Win10?
I'm not sure who started the "dark mode" theme idea, but it's become so popular that you can change your Mac, your iPhone, your Android tablet, even your TV to have light text on a dark background instead of the usual black text on white. Microsoft has kept up with its dark mode support too, ranging from within Microsoft Edge, its latest generation Web browser for Windows to the Windows operating system itself. Not sure if it's supported on Windows Phone, but seriously, who's still running Windows Phone at this point? 🙂
My secret problem is that I always think about the Tom Cruise film The Mummy because it was supposed to launch the "Dark Universe" franchise, complete with really cool logo animation and everything. The film was a bust, but "Dark Mode", "Dark Universe", they're kinda the same, right?
As it turns out, research on eyesight seems to lean towards black text on white being better, including academic research that concludes "subjects preferred display that is less stimulating to the eyes (i.e., negative polarity and black text on gray)." But at some level, it's also personal preference too so if you want to experiment with dark mode and have white text on a black background, I say more power to you!
With that in mind, let's look at how to switch things around. First off, here's a regular "light mode" File Explorer window: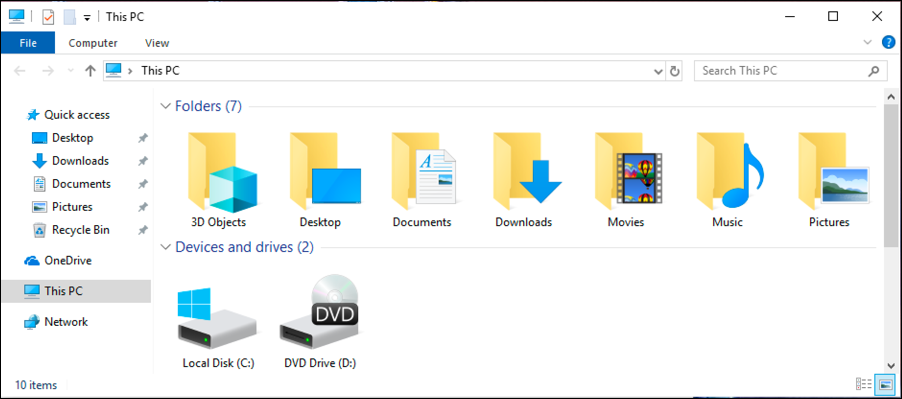 Should be familiar, you've seen it countless times since the dawn of windowed computer interfaces. Black text, colorful icons, and a glaring white background for everything.
To change it, jump to the Cortana search on the Win10 start menu and type in "dark theme". It'll offer this:
No surprise, click or tap to select "Dark theme settings". You'll move to the Colors setting in System Preferences. Scroll down until you see the last of the various options available:
As I've highlighted, it's the very last set of options that let you switch to Dark Universe, errr, I mean Dark Mode.
Click on "Dark" and it will instantly change the window to show you what Dark Mode looks like on your Windows computer:
Pretty darn cool, eh? Now look up on your screen too; while you've been doing that, other windows on the computer have been changing too. In fact, File Explorer has gotten into a sort of hybrid mode: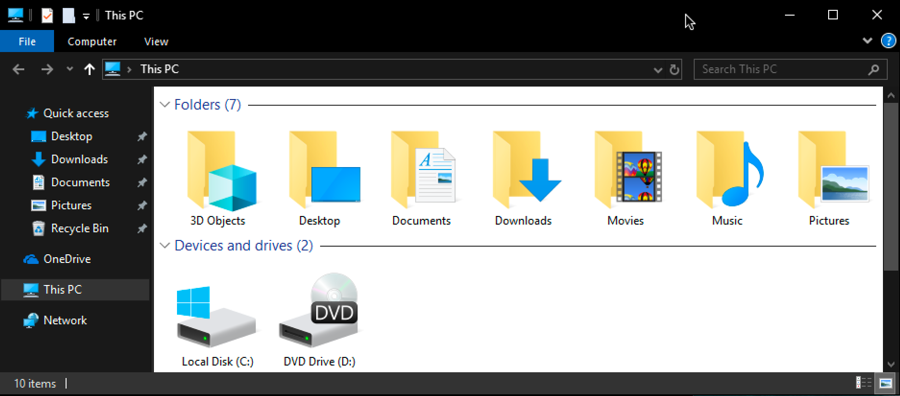 Weird, right? Don't worry, just close the window and launch a new one and you'll find that it figures out all the color changes needed for dark mode to work properly:
Now you know how to switch back and forth. Try both, see which one you like best. It also might be that during the day, light mode is better and at night dark mode works best for you too, so be aware of ambient light and its affect on your screen perception too. Good luck!
Pro Tip: While you're here, please do check out our extensive Windows 10 help area. Hundreds of useful step-by-step tutorials!