I just heard on NPR about a security breech by hackers at eBay. Now the company's telling everyone to change their password on eBay. How do I change my eBay pw quick and easy?
Ah yes, if it's Wednesday there's another security problem on the Internet. It's not going to stop, you realize, and what we're seeing is the increasing level of sophistication of hacker groups and companies. Fact is, security experts have long been saying that the only way to keep data truly secure is to never have it on the Internet in the first place. Problem is, the cost of doing that is high, when we don't have "one click", loyalty programs and customer tracking, the things that make shopping online so easy and satisfying.
The latest company to feel the pain of a major security failure is eBay, and you're right, within the last 24 hours they have indeed come out and warned every single user that their account credentials might have been compromised and that it's time to change your password on the popular auction site. Again.
But the real problem is that it's a pain to remember dozens — or hundreds — of different passwords so we all tend to use the same password or two across all the sites. Which means if it's compromised on one site, you really should change every site that uses that password, not just that one. Ugh. Indeed. It's why passwords unto themselves are obsolete. What's weird is that eBay's PayPal site has a well-implemented 2-factor authentication [see: Enable 2-step authentication for PayPal security] but eBay itself is still missing this modern security feature. Odd.
Since I can't fix these problems for everyone, let's just look at how to change your eBay password. Start by logging in to your account on the site, then along the top look for your name, then move the cursor over that spot: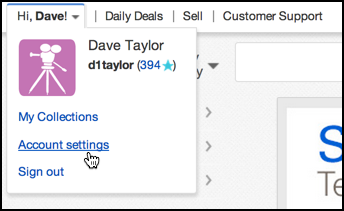 Choose "Account settings", as you can see I'm poised to do in the above picture.
Then choose "Personal Information" on the left side under the "Account" tab. The result:
You can see that the third option down on the right side is Password.
That's the one! Choose "Edit" on the far right and you'll need to enter your existing password again to proceed: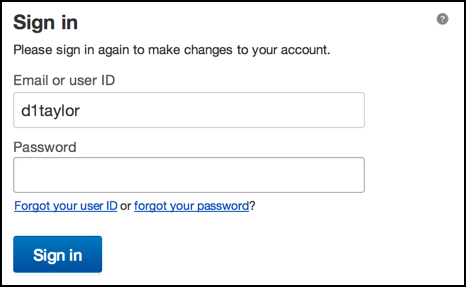 Assuming you haven't forgotten your password in the intervening minute or two, you'll see this: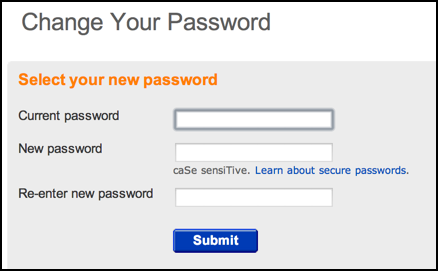 As always, upper case, lower case, digits, punctuation, it's all beneficial. The harder it is to remember, ironically, the better the password is. Of course, then YOU need to remember it, but that's another story.
Enter your current password and the new password twice, then click "Submit".
That's it. You'll get a brief confirmation:
Done. Now you're safe from this data breech. The next one? We'll have to just hope (and choose complex passwords!)