Now that I have Ubuntu Linux running on my desktop, I'm pretty psyched to learn more about Linux. But first things first, what's the easy way to change the desktop wallpaper? The default is pretty awful!
Welcome to the world of Linux! You gain vast power and flexibility, but at the cost of a bit of complexity and a lot of versions floating around. After this many years of Linux development, however, you'll be pleasantly surprised how many Windows and Mac behaviors produce the correct result in Ubuntu too. Since you can't patent or trademark sequences or processes (for the most part) there's no reason for the Linux development team not to mirror well-known behaviors from other operating systems.
Of course, if you really want to get your Linux gold star, you might want to learn how to change the desktop wallpaper from the command line – I know that's how I generally like to do things in Linuxes! – but there's a much, much easier way that takes just a few seconds and doesn't pose a risk from sloppy typos or accidental spaces 🙂
Fire up Ubuntu Linux, then right click on the desktop area. If you're using a VM system or one-button mouse, you can also try Control+Click or tap on a touchpad to produce the same results. On my Ubuntu system, here's what I get:
Really cool photo, but an awful, way too busy desktop image for my taste! Can you even see the contextual menu that's popped up from my right-click? Yeah, I thought not. So instead, here's the menu up close:
A variety of useful tasks can be accomplished right from the menu – and oh! does it look similar to what you'd get on a Mac or Windows computer! – but for this task, simply choose "Change Background", as highlighted.
After a moment or two the Settings system will launch, with Wallpapers as the current pane:
What's not obvious here is that you can simply click on either image to open up a gallery of alternative choices. Do that, click on the "Background" image and a sub-window pops up: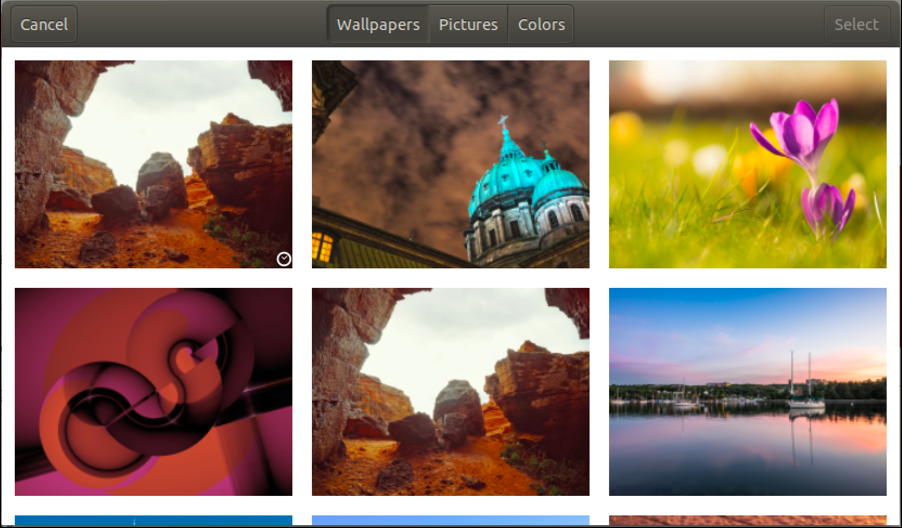 Some considerably better wallpaper photos, but I have to admit, my preference is always something simple so that I can more easily see what icons, files and documents I have on the desktop itself. Look along the top and you'll see that there are actually three tabs in this window: Wallpapers, Pictures and Colors.
Click on Pictures and you'll learn how easy it is to have a folder of your favorite photos, personal or professional, as potential wallpapers:
Click on "Colors" if your preference is solid backgrounds with no visual distractions at all:
But… neither of those are very fun, so let's back up to the "Wallpapers" tab and pick one of the images to use as the Desktop wallpaper.
That's done by simply clicking on it once to select the image. You'll know you've done that by the orange line that shows up around the image and the fact that the "Select" button on the top right is suddenly green and clickable:
So what do you do when you see a clickable green button? You click on it, of course! And… boom! A whole new desktop: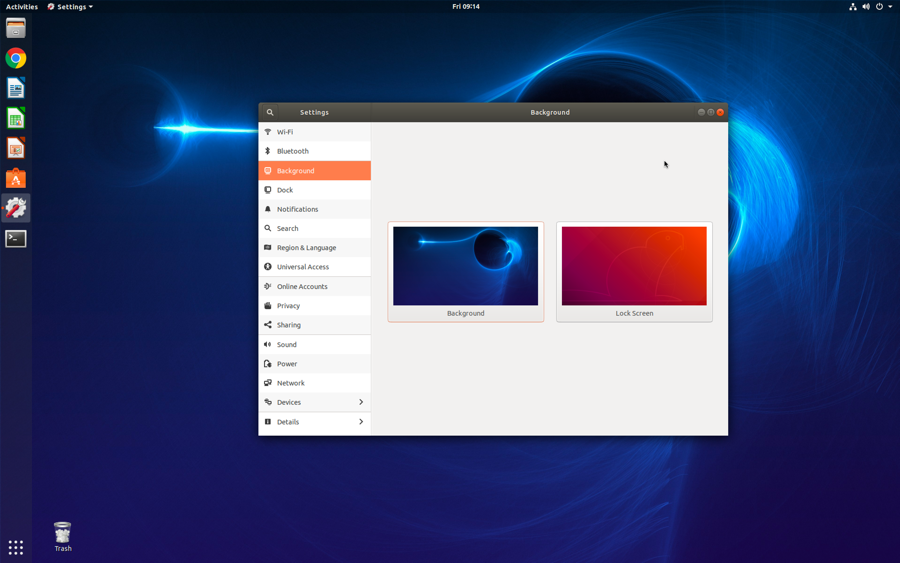 For my tastes, a significant step up from the original nighttime cityscape. And now you know how to tweak and fiddle the relevant settings on your own Ubuntu Linux system to fine tune the Desktop – and lock screen – wallpapers to your own tastes!
Pro Tip: I've been writing about Linux forever and have a lot of Linux help material here on the site. Please spend a few minutes checking it all out while you're here!