I use Linux and Firefox as my main browser. It works well, but I'm not a fan of Google and it's frustrating that the default search engine in Firefox is Google! How can I change it to something like DuckDuckGo?
Firefox is one of the oldest Web browsers in existence, first released back in November of 2004. A spinoff of Mozilla, an open source Web browser project, Firefox has become quite popular with the Linux set, though most Mac and PC users opt for something from one of the big commercial companies, generally Chrome, Safari, or Edge. But there are a lot of Web browsers from which to choose, and since most use the same internal rendering engine, a lot of the differences are more related to the user experience than anything else. As a result, all Web browsers also have a million and one settings, preferences, and options. Including Firefox.
By default, as you say, the search engine is Google. That's because Google helps underwrite the development of the Firefox browser through sponsorship. Awkward? A bit. But you can change it, just as you can change what browser you use and what search engine it uses on every other operating system!
HOW TO IDENTIFY YOUR DEFAULT FIREFOX SEARCH ENGINE
The easiest way to figure out what search engine your Firefox system is using is to simply open up a new tab: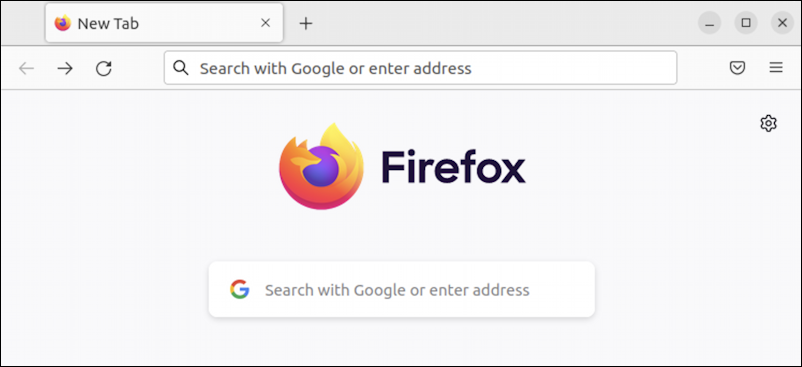 Notice the address bar and the box in the middle both say "Search with Google". That's your default search engine!
Now, here's a trick: Click in the address bar at the top and it'll show a list of possible search engines: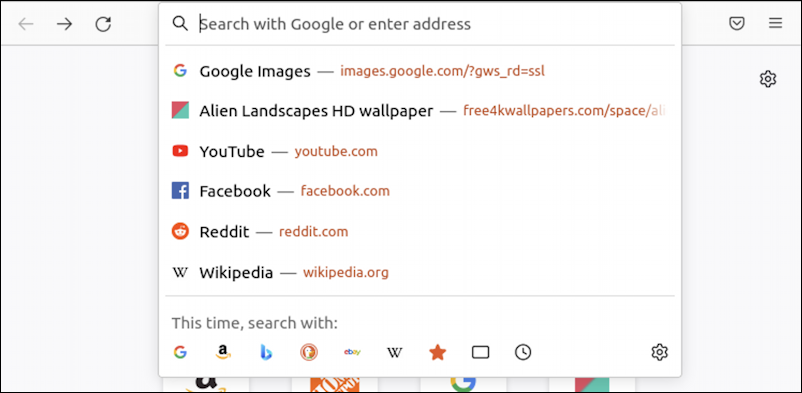 Notice along the bottom "This time, search with:" which lets you choose DuckDuckGo (the fourth icon from the left) for just a single search. Want to change it? Okay, I get that. Click on the gear icon on the lower right.
You'll be taken to the Firefox Settings area:
You can also get there by clicking on about:preferences#search (that link will probably fail if you're not running Firefox!)
CHANGING DEFAULT SEARCH ENGINE IN FIREFOX
Now that you're in the correct area in Settings and Preferences, scroll down a bit so you can see the "Default Search Engine" area properly:
Have a look at the bottom checkboxes while you're here to enable or disable suggestions as you search. Sometimes they're helpful, but they can also be distracting and many people disable them to keep things simple.
What we want, however, is the pop-up list at the top of this window. Click where it shows "Google" and a menu of options appears: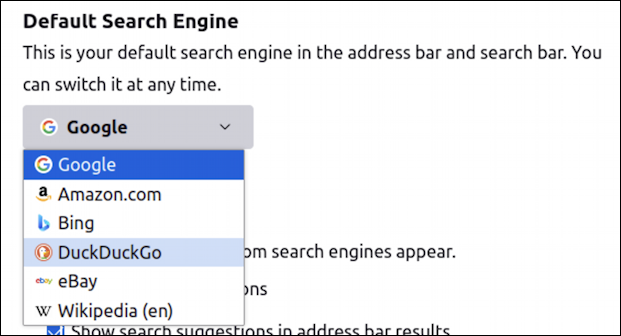 I'm not sure who would set Amazon.com or eBay as their default, but I guess if you really like shopping, that'd be great. The big two in this instance are going to be Google and Bing (Microsoft). But what about DuckDuckGo? You can choose that if you want an alternative search that (ostensibly) is more focused on privacy!
CHANGE SETTINGS FOR OTHER ADDRESS BAR SUGGESTIONS
While you're on this preferences page, click on "Change settings for other address bar suggestions" at the bottom too. Here's what you'll see:
As I said, lots of options! The one to consider closely is "Suggestions from sponsors". It's supporting the Firefox development team through advertising, but do you want sponsored content showing up as a suggestion? If not, disable this option. Close the settings window and you're ready to rock Firefox with DuckDuckGo:
That's it. Enjoy Firefox on your Linux system.
Pro Tip: I've been writing about Linux since the dawn of the operating system, and Unix before that. Please check out my extensive Linux help area for lots of additional tutorial content while you're visiting. Thanks!