Every single time I set up an event in my iCal ["Apple Calendar" -dt] it has a default Alert of reminding me 15 minutes before the event. That's useless, so I always change it to be an hour in advance. Is there a way I can just change the default?
Repeat after me: "there is no more iCal. It's now Apple Calendar". 🙂
That's okay, I know your response. "Whatever. Jeez, get on with it!"
I use Apple Calendar (see? not "iCal" 🙂 ) a ton and have my schedule planned for six months or longer into the future, so I'm all too aware of every nuance of its behavior, and while it generally is quite slick, there are some quirks and limitations, one of which is related to alerts.
The idea's great: automatic reminders of what's coming next and when. But exactly when it notifies you prior to an event, that's something more nuanced, and while I agree that 15 minute warning isn't very useful, I actually do something more complicated than you do: I set up multiple alerts for a given event so a meeting, for example, might have a 2 hour warning, 1 hour warning and 15 minute warning. That can't be set up as the default in the program, unfortunately, but we can change that 15 minutes to 60…
Here's what you see when you add an event in Apple Calendar:
As you can see, the default is "Alert 15 minutes before start".
Sure you can click in the event and change things, but doing that on a per-event basis is tedious, even if there are a LOT of options: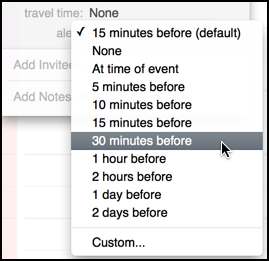 I don't want to do this every time I add something, though, so to change the default, go into "Preferences…" off the "Calendar" menu on the top left.
You'll get this:
There it is, front and center. Change the default for Events as desired. Now when can I add more than one as my default, Apple?
Oh, and one really cool thing is that if you sync your settings and calendar via iCloud, this change will affect everywhere you create calendar events, including iPhones and iPads. A nifty trick!