How do I alter time before a Windows 7 computer goes into sleep mode?
Microsoft Windows 7. That's rather retro of you, though not as bad as if you'd have asked me about Windows XP, I suppose. 🙂
All modern operating systems have had the ability to put your components to sleep and to even power down the computer itself after a certain period of inactivity. Heck, back in the day, you could get programs that would fake activity so that you wouldn't lose your (modem) connection with a server like America Online (AOL) or CompuServe. That's rather a while back, though.
Still, whether you're running Win7 or an early release of Windows 10, it's important to customize your energy profile — as it's now known — to match your usage patterns. In other words, how quickly does your display sleep and how quickly does your computer sleep?
In Win7 it's all accessible off the Start Menu: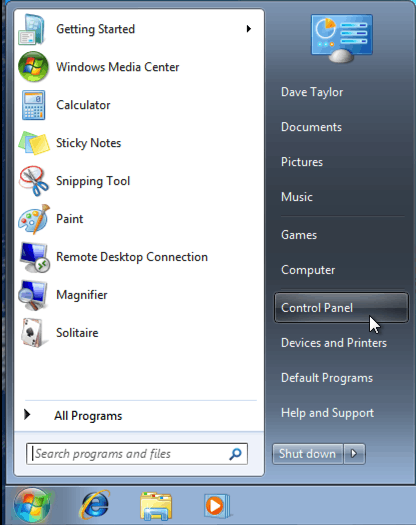 Choose Control Panel on the right side of the Start Menu.
You can also use the search feature but let's aim for the fastest solution, yes?
So, Control Panel.
This is where things can be a bit confusing with so many choices, but notice that you can use the top right window to search for a specific control panel if you want. Try "sleep" and see what comes up.
Or click around to ascertain that "System and Security" is the right area and click on the green section title words System and Security.
Again, a bit bewildering, but find Power Options, the fifth section, and click on it.
Now you'll see that you can set your "Power Plan" for your Win7 system:
I prefer having my system run fast even at the cost of some battery life, so I always choose "High performance". You might well want "Balanced" instead.
Either way click on "Change plan settings" on the plan you've selected, and you'll see exactly what you can fine tune to make the screen sleep more slowly:
Click on the current value for turning off the display and you'll see that there are a ton of options, ranging from a minute or two to "Never", which is probably a bad idea for your screen's health. Pick the one that works best for you, also checking that your setting for putting the computer itself to sleep is appropriate for your usage (I recommend against "Never" if you're on a laptop, btw, but that's fine for a desktop system).
All good? Click "Save changes" and you're done.