I need to change my visa card number: the one I used was lost so a new one was sent to me. I've tried calling-no help–on line and that does't work–by next month if this isn't taken care of I will lose access to Netflix. Help!
We don't want you or anyone else losing access to that great repository of TV shows and a few dozen good movies, Netflix, so let me show you how to get it all fixed up straightaway.
What? Why my comment about movies on Netflix? Because as a film critic (see my site Dave On Film.com) I know a good movie when i see one, and darned if I don't have a hard time finding things worth watching. I'll read commentary from a fellow critic about how a new film parallels a classic, but it's not on Netflix. Or I'll read a cinephile book and it'll list must-watch indies. None of which are on Netflix. I'll decide I just want to watch a few of my own favorites and, you guessed it, they're available via DVD (which I don't have) but not through streaming. I guess it's economics, but Netflix is my go-to site for TV shows, old and obscure or the latest and greatest. Does your experience vary?
Anyway, to get this to work, you'll need to be logged in to the Netflix Web site. The TV interface won't work (or if it will, it's sure 100x harder to correctly enter the needed data!)
Once you're logged in at http://www.netflix.com/ click on your account icon and name on the top right to get the account menu: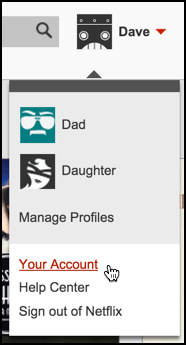 As you can see, choose "Your Account"…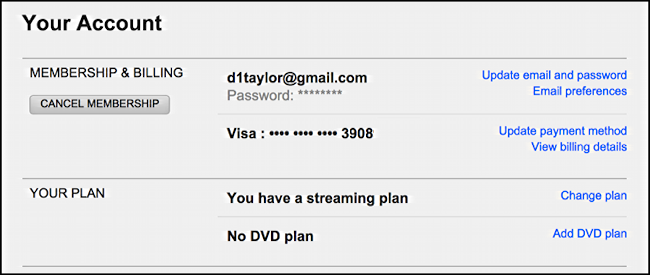 You can bail on Netflix by clicking on the big "Cancel Membership" button, but you don't want to do that! Instead, click on the "Update payment method" link on the right side.
Now Netflix will show you a credit card input window: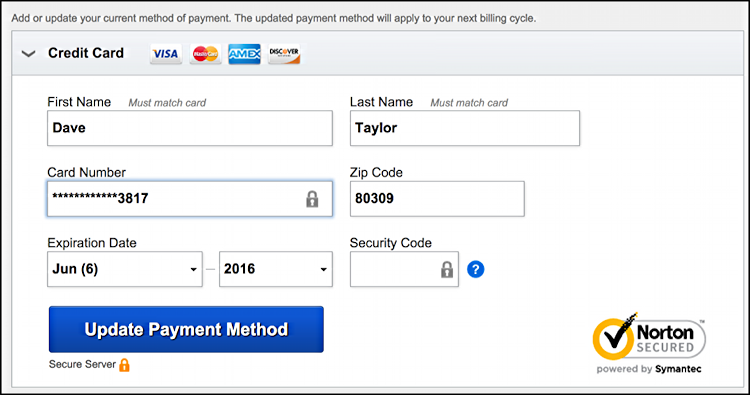 Here's where you'll need to carefully type in your new credit card number — and check it twice! — along with expiration date, CCV code on the back, your zipcode, etc, so it can run a test transaction and ensure it's valid.
Done? Great. Click on "Update Payment Method" and you're done!