Just got my first iPhone and it's definitely quite a bit different from Android! I'm wondering how I can change the background wallpaper on the home screen since the default is boring as paint drying. Can you walk me through the process, please?
There's a lot that's surprisingly similar between Android and iOS smartphones, though the veneer is definitely quite different. As they both evolve, however, the transition from one to the other can be quite jarring nonetheless. Why can't you have spaces between app icons on iOS? Why are iOS notifications so dorky? Most to the point, why isn't there an enormous library of cool wallpapers for iPhones? Heck, for that matter, why isn't there a search feature in Settings?
Let's just start with the basics: How to change your settings in iOS14.5. That's the heart of much of what you'll want to do to personalize your iPhone experience and change your lockscreen and home wallpaper images. If you want to use your own wallpaper, you absolutely can do that. Easiest is to use Google Image Search to constrain a search for "large" images. For example, click to search for large 'sunset' images: Google image search for sunset. If you want to make your own, I suggest you aim for 2778 x 1284 pixels, the largest possible iPhone device resolution (that's for the iPhone 12 Pro Max, if you're curious).
CHANGE YOUR BACKGROUND WALLPAPER iPHONE / iOS14.5
I'll start by showing you the background wallpaper I have set up on my iPhone 12 Pro:
it's a calm pattern of blues and greens, a cool palette that kind of blends in with the colors of my app icons. I'm so used to my app layout that it doesn't bother me, but it's also easy to change.
Fire up "Settings" and then tap and drag the Settings screen downward. A search box will appear! (that's how you get a Settings search box. I don't know why it's not just visible all the time, but it is easy to reveal):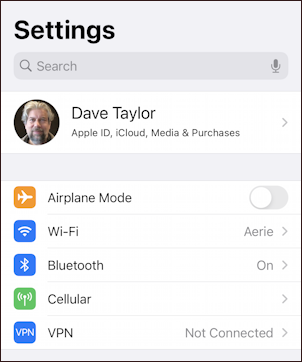 In the search box tap in "wall" and possible matches will immediately appear:
Lots of options related to digital wallets but most importantly, the top match is "Wallpaper". No surprise, tap on that.
You can now see both my lock screen and home screen wallpapers. They're pretty different!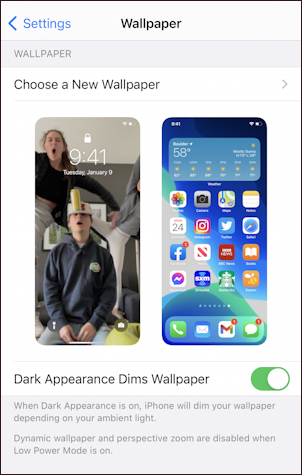 I love this wacky photo of my kids mugging it up, so I'm going to leave the lockscreen setting alone. The right side is what Apple calls the "home screen" wallpaper background, so that's the one to change. Either way, though, it's a tap on "Choose a New Wallpaper" that moves to the next step.
Now you'll see the embarrassingly paltry set of default wallpapers from Apple in iOS: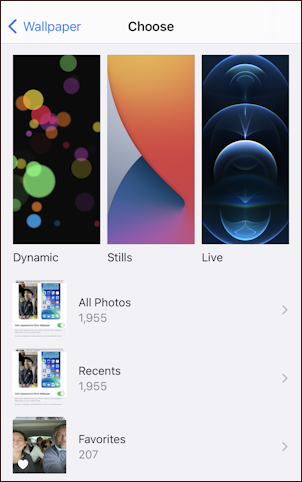 By contrast, as I'm sure you recall, Android has a large library and thousands of third-party wallpapers and themes from which you can choose. Not Apple, though. On the other hand, in addition to the Dynamic, Stills, and Live images, you do have access to your entire photo library. You can choose any photo, including any that you found and saved from that earlier Google Image search.
I'm going to tap on "Dynamic" to see what options are available…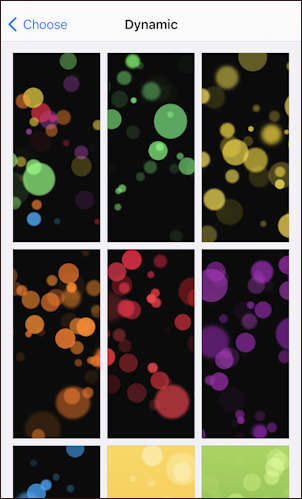 Cool, but if you don't like bubbles, there are zero other options in iOS14.5. Seems easy for them to include at least a few dozen options, but that ain't the way it is. Instead, tap on "< Choose" on the top left and select "Live" instead.
There are even fewer options, but the overall design is pretty cool:
I'll tap on the blue image and iOS will tell me how these Live wallpapers work:
You can try it at this point: Press on your screen and you'll see the spheres all move around. I can't see myself doing that on a screen of my iPhone itself, but still, the image is pretty interesting and the dark colors will set off the app icons nicely.
A tap on "Set" offers three choices:
As should already be obvious, the "lock screen" is the background on your phone when it's locked, while the "home screen" is what's behind every screen full of app icons. I'll just change the home screen by tapping on "Set Home Screen".
Here's the result:
Definitely gives my phone a different character than the earlier, more colorful design.
That's it. Screen wallpaper background changed on your iPhone. And now you know the steps, you can experiment with other patterns, designs, and photographs to your heart's content!
Pro Tip: I've been writing about the iPhone since the very first device was released. Yes, I've owned every major iPhone model! I've also written quite a few iPhone help articles on a wide variety of topics, so please check 'em out while you're visiting. Thanks!