Day Two of the huge Consumer Electronics Show in Las Vegas, Nevada, and we decided to check out the Central and North halls of the unimaginably massive Las Vegas Convention Center. The Central Hall seemed to be dominated by large tech companies, notably Microsoft, Intel, Motorola, and the like, along with a sprinkling of accessory manufacturers dwelling on the periphery.
The North Hall was in-car audio and mobile audio and devices, which was less well attended and, to my interests, less interesting. More amazing cars and lots of "booth babes" who were dressed exactly as they'd been for the almost cliché mechanic's calendars they'd posed for in the first place. And lots of guys eager to pose for photos with 'em, arm firmly in place around their barely clad waists.
We took a break, then went to the Las Vegas Hilton's own convention area for the International Gateway, which was exclusively representing companies in China and Hong Kong. Lots and lots of tiny booths with an amazing array of gadgets, gizmos and gewgaws, and every company hoping to find someone to distribute their products in the United States. This makes it a bit frustrating when you see something cool and realize that it might never be for sale through Best Buy, Wal-Mart or even Amazon.com, but it's fascinating to think that two shy Chinese women who are hiding out in their tiny booth might well representing a two-thousand person strong manufacturing powerhouse in a far-flung province of China.
Anyway, on with the photos!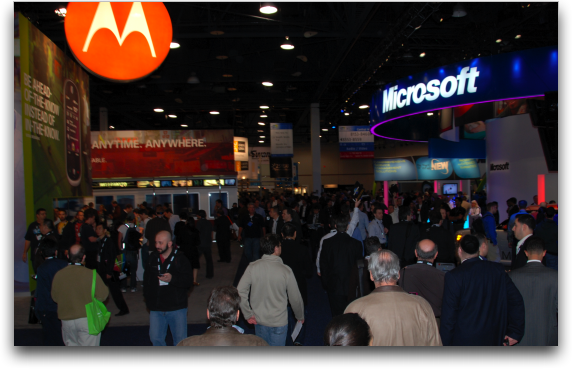 A typical scene of chaos at the more popular area of the Consumer Electronics Show 2009, this shows you a portion of the huge Microsoft booth space, with Motorola's familiar "M" logo and a portion of its booth on the left. Behind Motorola was Intel, so the triumvirate was well represented in this area of the show. The most interesting thing that Microsoft was showing off? Windows 7. There were a lot of people from Microsoft demonstrating the Zune, but not many attendees were stopping to see what was going on.
Notice that the attendees are predominantly male here at CES too. That's probably true of the demographic of consumer electronics buyers anyway, but still, is there even one woman in this picture?
---
This is a simple idea and I hope that they can get some traction in corporate America: it's a button that you push when you're walking away from your computer that puts it instantly into sleep mode, which saves about 80% of the electricity that it'd otherwise be using with a screensaver, etc.
They were one of many companies offering simple and effective green solutions to help us all use less power with all our gadgets and gizmos, and it's an important step for all of us to consider. The Ecobutton guys also pointed out that compared to running a computer 24×7 for a year, simply pushing the button to have it instantly go to sleep for 10 hours/night would save you over $100 in electricity costs.
---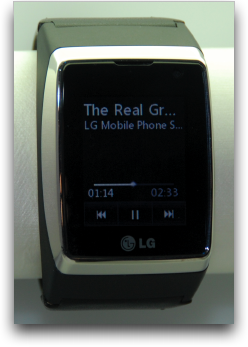 One of the most talked about things here at CES is the
LG
mobile watch. As you can see, it's like a tiny iPhone curved around your wrist. My take? It's another early concept product that might be of interest to a small number of very early adopters, but they've got a ways to go before Dick Tracy will be ready to charge one to his Paypal account.
Even more ironically, check out this picture from a tiny manufacturer in the Hong Kong area of the International Gateway:
In case you can't read the signage, it says: Cell Phone, Digital Camera, Music, Video, Bluetooth. And bling! Sweet!
---
This was astonishing, the
Samsung
very thin screen prototype screen. It really is just as thin as you can see in the picture, and it's a bright, gorgeous screen. They wouldn't say how much one of these babies would cost since they're not on the market, but it's more than you and I can afford. For now.
In ten years, you can imagine a roll of this screen substance being one heck of a fascinating wallpaper material that's actually a wall-size screen. Or a set of tiles that you slap on a wall, add a quick wooden frame, and have an instant art display system that just happens to double as a bright HD video monitor. I want one NOW!
---
Speaking of rolling things up, though, check this out:

They asked me not to take pictures of this, but fortunately it was after I'd already taken this shot. Again, imagine having a spare keyboard in a tube on the bottom of your backpack, bluetooth enabled, and when you need it, you flip it out onto a table and just start typing. Heck, maybe you could pair it with the mobile phone / computer wrist watch!
---
I told you we saw cool cars, right? Here are some of the best:

Yes, that's the car from
Back to the Future
, the slick
DeLorean
. Too bad the company imploded, these are now quite the collector's item.
Not sure how tricked out this is, but you gotta admit, this is one nice lookin' Nissan Z. My son would go bonkers if I drove up in one some afternoon after school.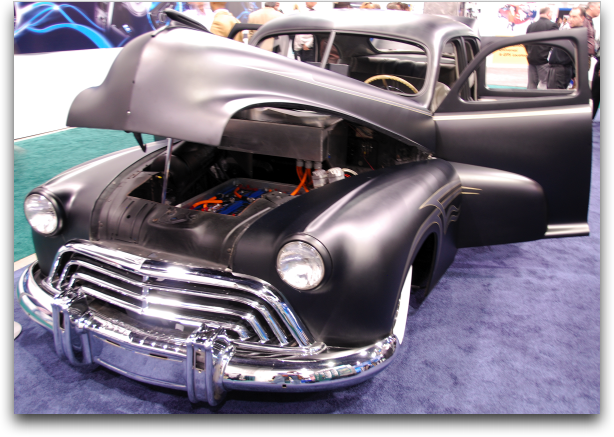 Check this one out too: it's an old Ford (I think? Can someone tell me the specs on this car design?) that they've completely gutted and rebuilt as an all-electric vehicle. Yes, believe it or not, this lowrider that'd fit in just fine in East LA is a zero emissions electric car. I have no idea about the price for this conversion, but what a great idea!
---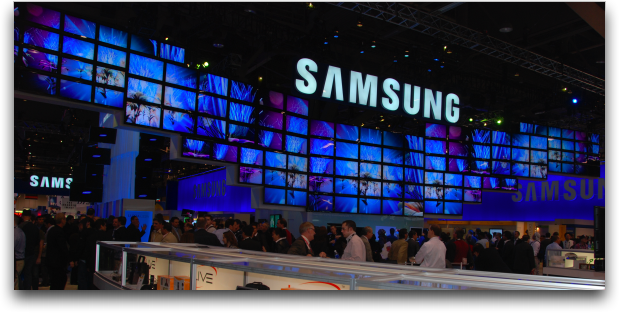 It's hard to get a sense of the scale here, but each of these screens is at least 52″ across and it's a literal mountain of TVs arching over the Samsung booth here at CES. It's incredible, and the processing power needed to have it all work at the same time, even with separate line sync and such (we got a briefing on how these work from Thomson Digital Advertising a few days ago).
---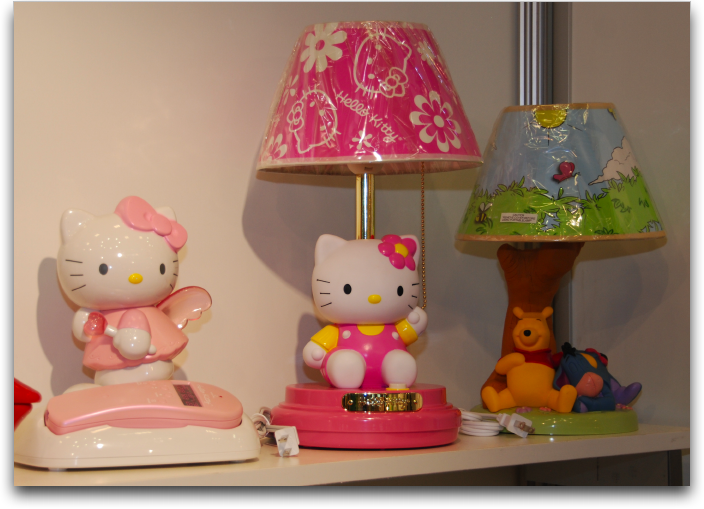 I'll end with something cute: what girl wouldn't love these Hello Kitty accessories? My 4yo would flip for 'em if I could somehow bring them back to Colorado with me.
Anyway, that was the end of the second day of CES for us. We then went to a great
Affiliate Summit West
speaker dinner, followed by a wonderful behind-the-scenes tour of Cirque du Soleil's "O", followed by seeing the show itself. Fabulous. Photos and narrative to come!
Don't miss our
CES Flickr Stream
too, for lots more photos — including of the "booby" mouse pad — and snarky commentary.