I have a Sanyo mm-5600 cellphone but i cant get it to play the music that i download on to it. Can you offer me any advice or assistance, please?
I hadn't heard of the Sanyo MM-5600 prior to receiving this question, so I started by digging around a bit. Seems like a honey of a phone, I must admit, with it's wide range of capabilities, including: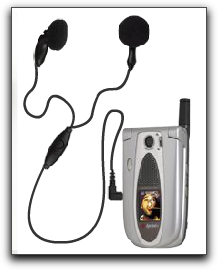 "A 1.3 Megapixel camera, a removable miniSD memory card and a built-in MP3/AAC music player. The MM-5600 supports Sprint PCS Multimedia service, which lets you to watch and listen to on-demand video and audio. It also supports Sprint PCS Ready Link, which provides nationwide walkie-talkie-style communication.
"Other powerful capabilities include a high-quality SANYO speakerphone, a 2.1″ QVGA-resolution internal LCD display with 260K colors, PictBridge compatibility, and a voice recorder that gives you up to 60-minutes of record time."
As someone with a Motorola RAZR that's been crippled by Verizon functionality-wise, it's nice to learn that the Sanyo 5600 includes the ability to simply copy video, photos and MP3/AAC/MIDI files onto the miniSD card for later playback.
Now, according to Sanyo, the mm-5600 can play your MP3 files by pressing MENU, selecting Media Player, selecting miniSD then scrolling to the specific selection and just pressing Select to start playing the song.
Once it's playing, you can adjust the playback volume with the usual side volume key.
There is a somewhat cryptic note in the Sanyo mm-5600 User's Guide that says:
"Note: In some instances, you may not be able to play the media file on your phone when you add any sort of sound effects to your media file."
Sanyo doesn't say so, but I surmise that this might be more targeted at AAC ringtones than at MP3 music files. But I'm not sure.
Two more important points about MP3 files on your phone:
1. You can't use any of them as ringtones (in fact, you can't use any audio file on the miniSD as a ringtone), and
2. You can't listen to music while surfing the Web, checking email or playing games either.
Finally, if none of these address the issue, let me end by asking what is perhaps the most obvious question: do these MP3 files you're downloading to the camera actually work and play properly on your computer?
I hope this helps you solve the problem you're facing!