I dunno, maybe I just make things difficult for myself, but I just bought a Motorola HS820 handsfree bluetooth headset to use with my new Motorola RAZR cellphone, and I can't get the silly thing to work with my phone! I follow the directions, but the headset is never seen by the RAZR?
Perhaps the most important step in this entire process is to charge up the headset before you start. When I bonded mine to my RAZR, I gave it about three hours for a full charge, then also made sure my phone was fully charged too, though I'm sure that doesn't matter.
Once you're ready, you need to get the headset into "pairing mode" which is done by pushing and holding down the call button for about ten seconds. The blue light will turn on and stay on (if it's just flashing you haven't gotten the headset into pairing mode. Try again)
Now, on the phone, you need to go to Menu –> Settings –> Connections –> Bluetooth. At this point on the phone, one of the options is "Handsfree". Select it and you'll see: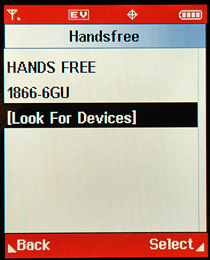 Choose "Look for Devices" at this point and you'll now see the phone scan for individual devices:


Hopefully, it'll find your headset:


The Motorola HS820 handsfree bluetooth headset is what I'm working with, and I think what you're talking about too (though it doesn't really matter because all headsets bond with phones using a similar approach, and all Motorola phones have the same settings and configuration menus too).
To proceed, I select the headset because now I have to actually
pair
the two together. Having selected the HS820, I now am shown:


I want to do this, so I indicate "Yes" and am then asked to enter a passkey. Here's where you can see that bluetooth security isn't as good as it could be: the passkey for all headsets is
0000
. Enter that code, choose "Ok", and it should match what the headset seeks:


That's all there is to it. If your phone isn't seeing the headset during the scan process, or it's rejecting the PIN, I think you might have a bad device and I would suggest you take it back.
Good luck to you!