Is there some arcane magic required to get signatures to automatically appear on an account?
Some of my accounts work fine; some simply refuse to auto insert the signature when I open a new message, even if I completely delete and recreate the signature.
Annoyingly, it's my main business account which it doesn't like 🙁
Wow, how bizarre. I agree, something is busted (or at least unintuitive) in Mail's signature system.
First, make sure you have updated to 10.4.1 (go to the Apple menu at the top left corner of the screen, and choose Software Update, then accept any updates shown as necessary). Mac OS X Tiger 10.4.1 had some Mail upgrades, among a bunch of other things.
Inside Apple Mail, to set Signatures, go to the Mail menu and choose Preferences. Select the Signatures icon, second from the right.
Make sure the "Account" is highlighted on the leftmost panel. Don't create the signature when "All signatures" is highlighted, though, as that doesn't seem to work. Instead create your new signature by pressing the small plus sign on the lower left of the middle panel. Edit the text of the new signature in the rightmost panel.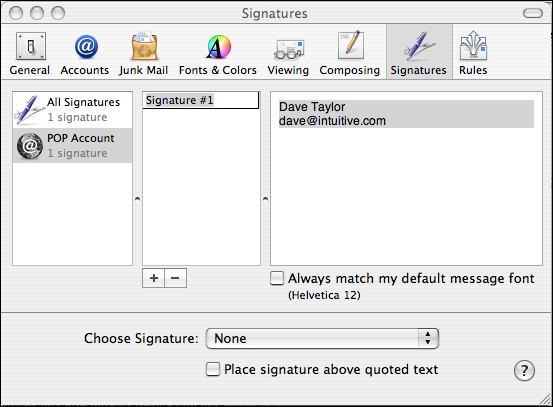 At the bottom of the dialog box is a drop down menu, "Choose signature." Make sure the Signature you just created is chosen. Don't choose "None," "Random Order" or "In Sequential Order."
Now, finally, close the Preferences window by hitting the red button in the top left corner, or by pressing Apple-W. Quit mail (Main menu, Quit, or Apple-Q), and relaunch it.
You should be able to choose the new signature when creating a new message now.
Thanks to Michael Clark for his help with this question