Just got a new Apple iPhone and bought a movie from the Apple iTunes Store so I can watch it on the phone, but it fails with "computer is not authorized to watch this movie", even though I bought it and originally downloaded it on my Mac. What the heck? How do I authorize my computer?
I recently had the same experience with my new iPhone too, actually, where I bought the terrific Will Smith movie Enemy of the State, just to find that I couldn't copy it onto my phone — or even watch it on my Mac itself — because it wasn't "authorized". Try to play it and here's what I saw: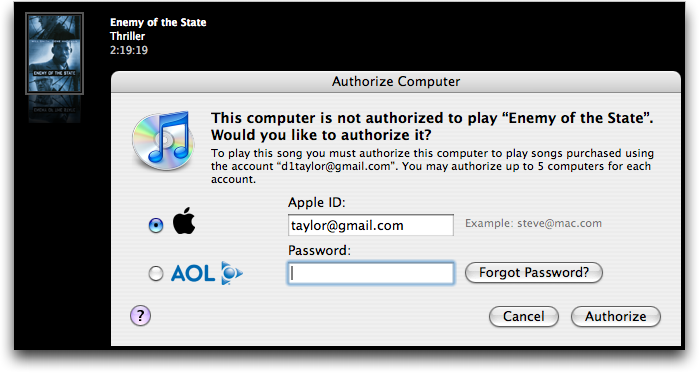 Yes, it's darn annoying, but the way to solve it is to use the same login credentials you used to access and buy the movie in the first place. Enter that, click on "Authorize" and now you'll see:



Give it a minute or three (depending on your network connection) and you'll see:


Now that it's authorized, you'll also be able to sync the movie with your iPhone by going into the "Summary" view in iTunes and selecting that particular movie:


Last step: watch your movie on your slick new iPhone! 🙂
Oh, and stay tuned here on Ask Dave Taylor for lots more
iPhone Help
in the coming weeks and months.