This is so frustrating! I'm staying at a hotel where they only have wired Internet connectivity in my room and a tiny four foot Ethernet cable. Well, I don't want to work on their little desk with my back to the TV. So I always carry an Apple Airport Express, which is great except it can't connect either because it needs to "accept" the hotel's Internet pricing. So what can I do to get a wifi network running for my MacBook Pro?
You're in luck. This question came in as I was staying at the Atlanta Renaissance Waverly, where they have exactly the same configuration you describe: an Ethernet wire in the room that was about four feet long and not a single wireless network visible by my Mac. It's also a hotel where you pay for Internet connectivity: $14.95, no less!
To be a bit technical, it turns out to be tough because you can't just plug your laptop into their network, accept the terms of service and pricing, then unplug the laptop and plug in the Airport Express portable wifi base unit because they have different MAC addresses and therefore are seen as two different computers: the Airport Express would need to, as you have realized, have a keyboard and screen attached to it to approve the terms of service too.
My situation was more tricky yet because I travel with a MacBook Air which, you may know, doesn't actually have an Ethernet jack at all. So there was no way for me to get Internet connectivity in my room, even though I have a state-of-the-art laptop and my own Apple Airport Express 802.11g wifi base station!
As a result, I was highly motivated to figure things out, and after much experimentation, found out that if you set up the Airport Express as a "bridge network" it works just right!
Here's how I managed the magic:
I plugged the Airport Express into the hotel network and into the wall. Then launched "Airport Utility" (look in Applications –> Utilities for the app on your own Mac system) and after a few seconds saw this:

As fair notice, I found that more than once in this process my MacBook would "forget" the wifi network and I had to select it again. It wasn't a big problem really, but was annoying. Not sure if it's a weirdness of the MacBook Air, though…
Anyway, it promptly found the Airport Express, as you can see, and since I'm lazy, I let the application do the serious work and click on "Continue", which reveals:
This is the basic configuration screen and you can come up with a fun name if you want, but mostly I strongly recommend you set up a password here. Press "Continue" again and it starts to get interesting: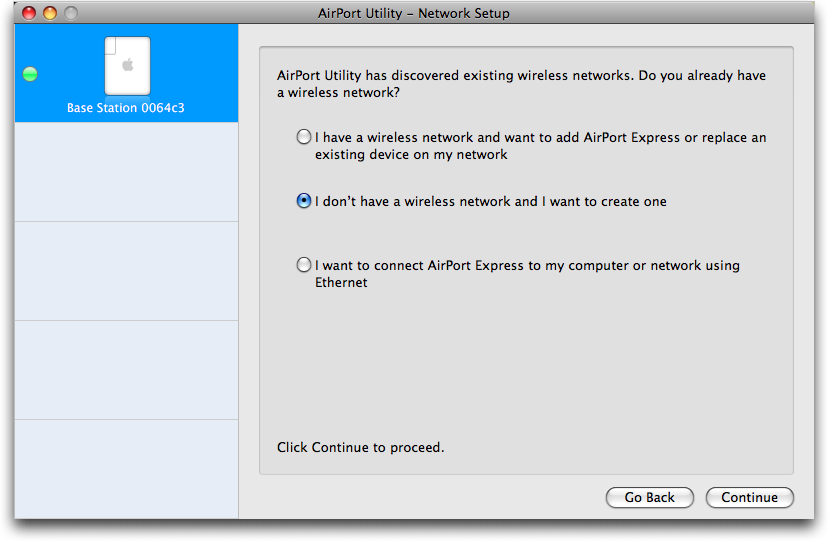 Since there was a sporadically accessible conference area wifi network (that would have cost $80/day to join, believe it or not!) in my hotel room, it thought that I might want to join that with the Airport Express, rather than create my own network utilizing the Ethernet plugged in. I didn't. You can see what I chose, "I don't have a wireless network and I want to create one". Chose that, click "Continue":
Here's where you can get creative with your name. I've chosen "Apple Network 007", but usually I have something like "H3ckrsL33t" which just means I can be sure no-one else in the hotel will try to join it! 🙂
Here you can see I'm also leaving it as having no pasword, but realistically it's probably a better practice to actually set one.
Another press of "Continue":
This next step is the key to sidestepping the hotel network configuration! You
must
set it up as a "Bridge Network" which means that essentially the Airport Express is invisible to the entire hotel network and it looks exactly as if you had an Ethernet wire connecting your laptop to the hotel system.
Cool hotels have wired networks that let you chose the later option, actually, since then your buddies can hang out in your hotel room and share a single connection, but from the hotel's perspective, that's not good at all and 4x$14.95 is far better.
My hotel, and it sounds like your hotel also reject this sort of DHCP configuration so, as I said, it's a "bridge" you need to set up. Click "Continue" again:
Nothing to change here, leave it all as is and "Continue" yet again.
That's it. We've got the configuration we need. Click "Update" and the network will vanish for 30 seconds or so, but when you reconnect to it, you should be able to open up your Web browser, go to a generic site like Yahoo, and encounter the standard hotel terms of service and pricing. Accept it, and you're online, baby, without having to worry about that goofy Ethernet wire.
Hope that helps you out!