My daughter got overenthusiastic and preordered a bunch of upcoming music CDs from the Apple iTunes Store. Not so good. Once they all ship, I'm looking at over $100 in music purchases, way more than I can afford. Is there some way to cancel these pre-orders before they're charged to my iTunes account?
It's amazing the new and surprising ways that our children can spend our money in this modern technological age, isn't it? I mean, when we were growing up, the idea of having access to any of our parents accounts in anything was unimaginable, let alone having the ability to directly charge things onto their credit cards (if they even had credit cards!)
Still, Apple's goal is to part you from your money so it's no surprise that your daughter found it pretty easy to go ahead and pre-order albums from her favorite musicians. That's the purpose of a business, of course, so we can't be too critical and, frankly, if you didn't share your password she wouldn't have been able to do anything, right?
Enough of that, though. Let me show you how to cancel preorders directly from your iPhone and you can clean up the mess…
Start by launching the iTunes Store. I bet you recognize the icon. 🙂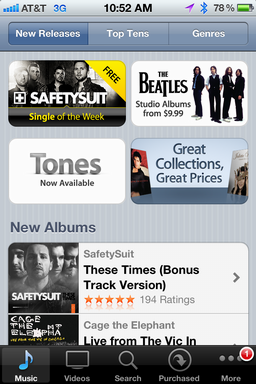 On the bottom right you'll notice a link "More" with a small counter. Mine shows "1" for the audio CD I've already pre-ordered for this demonstration. Tap on "More"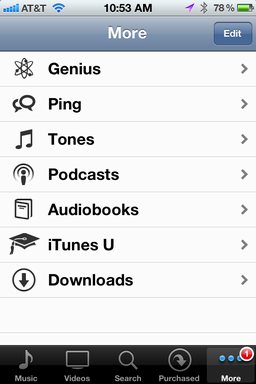 Here's where the interface is a bit odd. There's still the "1" showing on the lower right, so which of these seven sections is responsible for it? Who knows? Tap on "Downloads", however, and you'll see what's happening: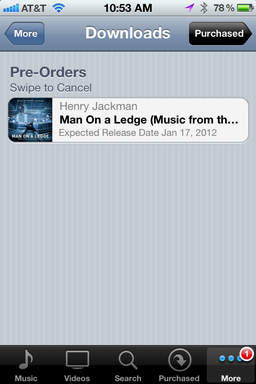 That's the audio CD I've pre-ordered:
The Man on a Ledge
movie soundtrack. To remove it, simply swipe your finger from left to right and a "Delete" button will appear: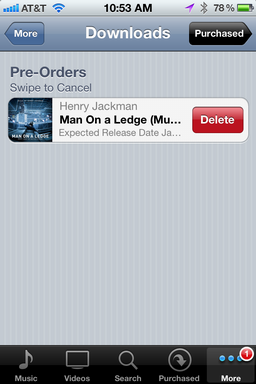 Tap "Delete" and it should cancel the preorder. Good luck!