I run a membership site and one of my members complained that after she'd resigned I'm still charging her via PayPal. I think it's her job to cancel her subscription, but now I have to do it. Help me out?
Not sure in a situation like you outline who is responsible for canceling a recurring bill for a membership site upon resignation, but I would definitely say that it's a good business practice for you to be able to do so and to refund any erroneously billed amounts subsequent to her resignation. That's how I would do it, at least.
The problem is that PayPal is so complicated now, offering up so many different options that it's hard to find anything. I know, because I was recently faced with canceling the subscription of a member of my mastermind group and it took a bit of digging to figure out where to go and how to cancel the recurring payment definitively.
For reasons of privacy, I have obfuscated information on just about every one of the following screenshots, but I think it'll still help you quickly find what you seek and cancel the account. You can roll with that, right?
So the first step is to log in to your PayPal account and look for the navbar tucked in the middle of the screen:
Click on "Payments received" to make it easy to find the particular subscriber you seek (or if you have a lot of 'em, you can also search for their name):
Though you can't see the names – obviously – I know that the recurring payment from Jan 30 near the bottom of the screen is the one I seek.
To dig in, I click on "Details" (you don't want to use "Issue refund" because the subscription will still be in place) and there's a lot more shown for that individual transaction: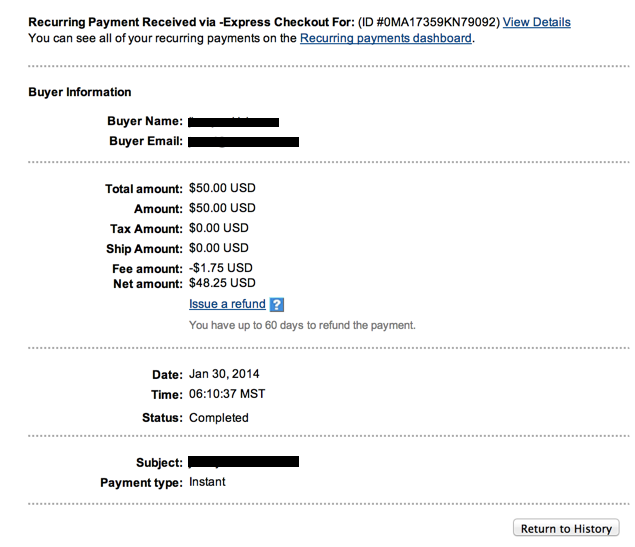 Again, don't click on "Issue a refund" but instead look for the "Recurring payments dashboard" link near the top of this table of information. That's what you want.
Click on "Recurring payments dashboard" from this page on PayPal.com.
Now you'll see this view:

You can see that these subscriptions are for $50/mo. The top one is the subscription I want to cancel, and it's a bit confusing how to do it. Really, oddly confusing for something that should be a basic control.
The trick is to click on the checkbox adjacent to the subscriber you want to cancel, then click on the "Cancel" link, even though it looks like something that's going to take you to a different page.
Once you do that, it'll confirm that's what you want to do:
Again, why it's called "canceling a profile" rather than "canceling a subscription" or recurring payment is a bit baffling to me, but it all means the same thing. If you're sure you want to stop payments, click "Cancel Profile" and…
That's all there is. Hope that helps you out!