Dave, can you record voice records and apply them as ringtones in the Motorola RAZR V3?
Yes! First off, you might want to review my article on How to use voice memos on the Motorola RAZR V3c to get the hang of it as it's not at all logical.
Once you've figured out how to create voice memos on your RAZR, all you need to do is to go to the Get Tunes and Tones area: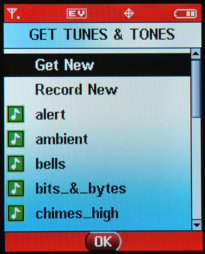 Then find your new audio recording, probably at the very bottom of the list: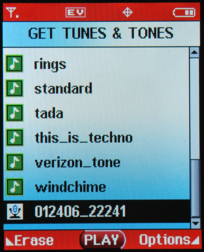 and chose the
Options
menu to get to this: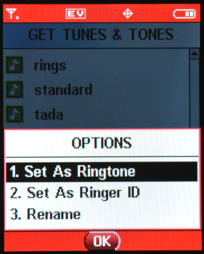 Choose option #1 here and you should be able to have your voce recording as a free ringtone for your RAZR!
I've been playing with this myself, trying to get my baby to say something cute like "It's Daddy's Hello!" (she calls telephones "hellos", logically enough) but haven't been ready to make The Big Switch from a more traditional ringtone as of yet.
Hope that helps you out!